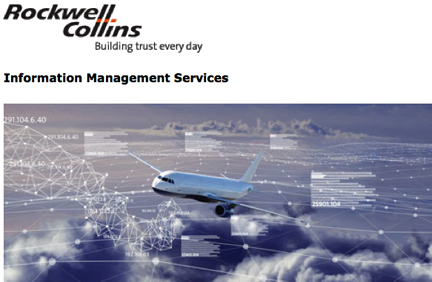 [SatNews] As part of Rockwell Collins' strategy to grow its global information management footprint, the company has announced a series of initiatives that will increase capacity and expand the company's ARINC global network throughout Europe, the Middle East and Africa (EMEA).
The initiatives, aimed at proactively addressing growing air traffic and more data being generated by modern aircraft, include expanding the number of VHF ground stations, adding VHF Digital Link Mode 2 (VDL Mode 2) frequency capacity in Europe and implementing a proprietary algorithm that will increase network capacity significantly over traditional VHF solutions.
The enhancements are now operational at a number of key European airports and are being rolled out across the region.
As the largest aeronautical data link provider in the world, Rockwell Collins delivers more than 60 million ACARS messages per month for over 300 airlines and 15,000 aircraft, providing real-time reporting of the critical flight information airlines rely on to maximize performance, safety and operational integrity.
Executive Comment
"These are significant investments by Rockwell Collins that will deliver a host of benefits to airlines flying in the EMEA region," explained Jeff Standerski, senior vice president, Information Management Services for Rockwell Collins. "Airlines will have access to the most robust, secure communications network available to transmit critical flight and crew information to and from the aircraft. In addition, the new airport-based frequencies will significantly improve performance for operators by automatically transitioning aircraft communications to the optimal frequency based on network load and capacity."