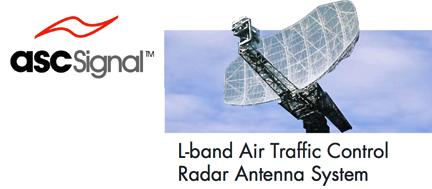 [SatNews] ASC Signal Corporation has been selected by Omnisys, a Thales Group subsidiary, to provide seven, L-band, air traffic control (ATC) radar antenna and pedestal systems, of which four will be installed in Brazil and three will be exported.
The ASC antennas, which measure approximately 14 meters in diameter and 7 meters in height, are ideal for long-range air traffic control, and will provide overlapping coverage of the skies over Brazil and other parts of the world. The reflector and feed horns are designed to provide a cosecant-squared elevation pattern and ASC has incorporated a dual-beam receive capability to enhance high-angle performance. Switchable linear and circular polarization is provided on high and low beams, and a receive weather channel is generated from the orthogonal ports of the high and low beam polarizers. The primary radar can support a co-mounted secondary radar for communication with aircraft transponders.
ASC's antennas are used in air traffic control radar systems by demanding aeronautics administrations around the world due to their advanced RF performance and exceptional environmental specifications. In recent years, the company has supplied ATC antenna systems for China, UK, Canada, Brazil, Spain, Australia and the USA, all of which join the hundreds of systems installed over the past several decades that are still in operation.
"According to a forecast from Airbus, Latin America will see the second highest growth rate in the world for airline traffic over the next 20 years," said Keith Buckley, President and CEO of ASC Signal. "With Brazil experiencing +10 percent annual growth in passengers, Brazilian air traffic control needs the utmost reliability and performance from its radar systems, and we are proud to contribute to that goal."
Known for more than four decades of innovative antenna designs for critical communications applications, ASC Signal's air traffic control antennas complete the company's line of high-performance antenna systems. ASC offers a comprehensive range of radars and antennas for ATC, weather and direction-finding applications that have been developed from field-tested designs meeting all applicable FCC, ITU and MilSpec standards.
The ASC Signal infosite is located at http://www.ascsignal.com/