[SatNews] Reported incidents of counterfeit electronic component parts this year are maintaining the record pace set in 2011, highlighting...
...the need for continued vigilance and improved detection and avoidance measures at a time when U.S. defense representatives are scheduled to update acquisition rules, according to information and analytics provider IHS (NYSE: IHS). Counterfeit incident reports from the beginning of the year through the end of August averaged 107.3 per month, up slightly from 107.1 in 2011. As shown in the figure below, on a sequential 12-month basis, a total of 1,336 separate verified counterfeit-part incidents have been made for transactions involving a minimum of 834,079 purchased parts. These figures are considered conservative because purchased parts reflect only a subset of all reported incidents.
Counterfeit parts are an escalating global supply chain challenge where a single occurrence represents widespread risk to product cost and quality, human safety, and national security. These new counterfeit report figures arrive at a time when the U.S. Department of Defense (DoD) is scheduled to update the Defense Federal Acquisition Regulation (DFAR) Supplement to the Federal Acquisition Regulation (FAR) on October 3, 2012. These updates are part of measures intended to regulate the detection and avoidance of counterfeit electronic parts as part of the National Defense Authorization Act (NDAA) of 2012.
"Counterfeit parts represent a serious and growing risk to the electronics supply chain in general and to the aerospace and defense industry in particular," said Rory King, director, supply chain product marketing at IHS. "Each month that passes, more than a hundred counterfeit incidents comprised of thousands of suspect parts are reported. That's why the spotlight is shining squarely on tighter policies and procedures aimed at counterfeit detection and avoidance. The good news from all this attention is that an increasing number of supply chain participant companies are joining credible anti-counterfeiting organizations like ERAI—exclusive partner to IHS and an organization that monitors, investigates, and reports on counterfeit electronic components—and filing a greater number of reports that then serve as proactive alerts to others in the supply chain of real counterfeits in circulation."
Among all reporting entities in IHS figures, sources include the Government-Industry Data Exchange Program (GIDEP) and ERAI. Consistent with 2011, ERAI represents the significant majority of reports made—88 percent of year-to-date 2012 totals. As IHS recently noted, incidents of counterfeit parts have quadrupled since 2009. Counterfeit parts often are cheap substitutes or salvaged waste components that fail to meet quality requirements, leading to potential failures. However, each incident can include thousands of purchased parts. On average, more than 1.4 million purchased parts have been involved in suspect counterfeit and high-risk transactions during each year for the past decade.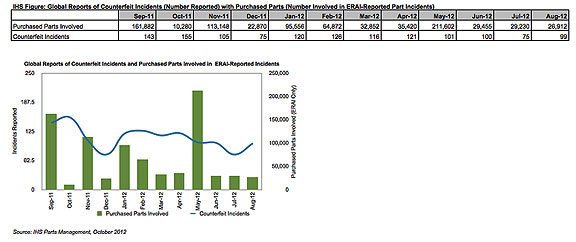 IHS provides content, software and expert analysis about worldwide electronics for component selection, sourcing, and logistics as well as integrated obsolescence management, BOM management, environmental compliance, and counterfeit risk mitigation. IHS is exclusive partner to ERAI Inc. and offers a wide range of counterfeit detection and avoidance capabilities as well as counterfeit risk and probability assessment tools.