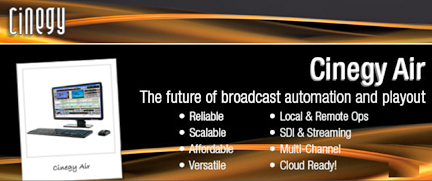 [SatNews] Cinegy has announced their recent expansion in the Middle East with reseller Promedia Qatar.

Established in Doha in 2004 with the vision of serving its customers by using Information Technology as a vehicle to reach their business objectives, Promedia Qatar, a subsidiary of OMNIX INTERNATIONAL UAE, is a leading provider of technology enabled solutions in the MENA region.

"Cinegy complements our solutions offering within the region and helps us with our strategic expansion into The Media & Broadcast Industries. Promedia works closely with leading technology providers globally such as Cinegy to deliver best-in-class solutions which are based on an 'open system' philosophy and easy to integrated into existing infrastructures," said Abdelrahman Muneer, Corporate Marketing Manager, Promedia. Headquartered in Doha, Qatar, Promedia also has offices in Dubai, Abu Dhabi, Kuwait, Riyadh, Khobar, Jordan, Oman and Iraq. Expanding their portfolio to include Cinegy now enables them to widen their customer base in addition to targeting the broadcasting industry with an end-to-end integrated solution combining Cinegy software and with non-proprietary hardware.
To learn more about Cinegy, visit Cinegy at the NAB Show on booth SL11116 and at their infosite: http://www.cinegy.com/
For information regarding Promedia Qatar, please visit http://www.promedia-qatar.com/