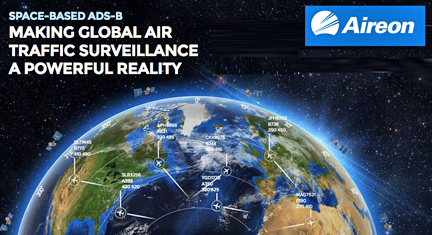 Aireon has formally received control from Iridium Communications Inc. (NASDAQ:IRDM) of the first Automatic Dependent Surveillance-Broadcast (ADS-B) payload hosted on an Iridium NEXT satellite.
This is a major milestone on the path towards 100 percent global air traffic surveillance. Aireon now begins a rigorous, in-depth testing and validation process, verifying the capability of the ADS-B payloads. Known as an Initial Performance Verification (IPV), this process will last approximately two weeks before transitioning to a Detailed Performance Verification (DPV) that will focus more specifically on calibrating the payloads for optimal performance. Procedures for the IPV were under development for over a year with valuable insight provided by Iridium, Harris Corporation, NAV CANADA and the Federal Aviation Administration.
In late January, the first "power-on" for the AireonSM ADS-B payload was performed to validate launch survival and run a self-diagnostic systems check. During this systems check, Aireon did not expect to see any aircraft, however the payload antennas were active and 150 ADS-B aircraft were detected over multiple-passes with thousands of ADS-B messages received and decoded. Among some of the firsts for the Aireon system are:
The first officially received ADS-B message was Korean Airlines 530
The first full ADS-B position message decode was SAS 4576
The first U.S. carrier ADS-B message was UA 86 to Shanghai
The first aircraft detected landing at an airport was NextJet 594 in Sweden

Aireon's space-based ADS-B system will be operational in 2018, shortly after completion of the Iridium NEXT satellite constellation. The service will provide Air Navigation Service Providers (ANSPs) with global air traffic surveillance and airlines with real-time flight tracking. It is expected to help reduce fuel costs, increase safety, and enable more efficient flight paths. The first 10 Iridium NEXT satellites carrying the Aireon hosted-payloads were launched into low-Earth-orbit from Vandenberg Air Force Base on a SpaceX Falcon 9 rocket, on January 14, 2017. Seven additional SpaceX launches are scheduled to take place over the next 12 to 15 months, including the second launch now targeted for mid-June 2017. In total, the operational constellation consists of 66 satellites, while the remaining nine launched will serve as on-orbit spares.
Aireon CEO, Don Thoma, related that when the company first turned on the payloads after they reached orbit, an unexpected surprise was received—aircraft were immediately being seen in real-time. Already seen have been commercial aircraft, general aviation aircraft and helicopters, in oceanic and remote airspace that have never before had real-time surveillance. The real fun now begins as the firm takes control and push the performance to see just what space-based ADS-B can do.

Additionally, also announced that Thales has officially begun the testing and validation of the Aireon space-based Automatic Dependent Surveillance – Broadcast (ADS-B) data.
Initially signing a Memorandum of Understanding (MOU) in June of 2015, the start of data validation marks another major milestone for Aireon and Thales' efforts to ensure the successful integration of space-based ADS-B into the TopSky–ATC automation platform. The MOU was also designed to pave the way for Aireon data to be efficiently and effectively distributed to TopSky-ATC end-users.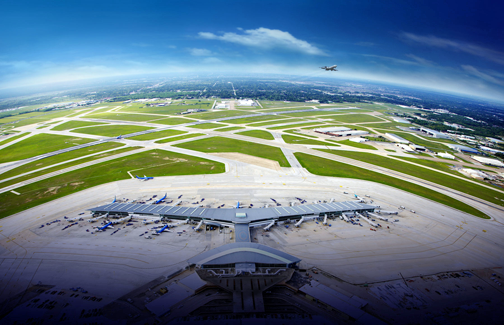 With the Aireon system now receiving initial air traffic information from its first orbiting satellites, Thales will independently validate the space-based ADS-B air traffic surveillance data. This collaboration will include an assessment of technical performance, defining requirements associated with utilization of the data safely and reliably, as well as determining the impact the service will have on existing maintenance and operational processes. The MOU was the first agreement signed between Aireon and an air traffic management automation platform provider.