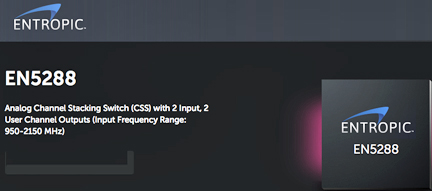 [SatNews] Entropic (Nasdaq:ENTR) and Microelectronics Technology Inc. (MTI) have announced a major direct broadcast satellite (DBS) operator in the Middle East deployed MTI's 4x4, Quad Single Cable Router (SCR) DBS outdoor unit low noise block (LNB) product, based on Entropic's third-generation Channel Stacking Switch (CSS(TM)) silicon, the EN5288.
The new Quad SCR was developed to address the growing multi-tuner, multi-viewing location home and gives the operator an opportunity to offer more services and entertainment to its subscribers by supporting four tuners off of a single-cable feed. According to the February 2014 research report, "Satellite Pay TV in the Arab World: KPIs and Projections" from the Arab Advisors Group, the payTV market in the Arab World is expected to grow at a steady pace from 2014 to 2017. The Group projects that by the end of 2017, the Arab World's satellite payTV subscriptions will increase to 19 million with total market revenues reaching US$ 2.5 billion. As the adoption ofHD and DVR devices increases in these homes, so does the number of tuners. The EN5288-supported Quad SCR LNB is cost optimized to support four tuners in the home, which extends a DBS operator's ability to offer more advanced services to more TV viewing locations in the home.

"Growth in multi-tuner and satellite bandwidth to support High Definition television is driving the need for Channel Stacking Switch solutions to be deployed in the Middle East by DBS operators," said Eugene Wu, business head satellite and mobile division, MTI. "In working with Entropic, we were able to develop a LNB product that would significantly reduce both the cost and cabling complexity of DBS installations as it can seamlessly distribute satellite signals for four receivers where in non-CSS installations only one was supported."
Unlike traditional satellite installations, which require a unique cable for each tuner from the satellite dish to the STB, Entropic's CSS technology enables the delivery of multiple video streams from individual or multiple satellites into the home over a single cable. This single cable architecture simplifies cabling to make the deployment of STBs, with multiple tuner capabilities, in multiple rooms, a very cost-effective installation and virtually eliminates retrofitting and the need to rewire rooms. Additionally, Entropic's CSS technology simplifies STB upgrades with plug and play installation and allows all levels of installers, from professional to consumers, to reuse existing cabling to quickly set up an in-home satellite system.
"The Middle East is one of the fastest growing direct broadcast satellite markets globally," said Al Servati, vice president, Marketing, Entropic. "We are proud to be working with MTI to develop and deploy the new Quad SCR LNB -- enabling this Middle Eastern operator to multiplex multiple channels from their satellite onto a single coaxial cable. With the Entropic-based MTI solution, we are enabling this operator to reach more DVRs and STBs throughout the home, while also providing a single-cable backbone for future home networking solutions."
For more information about the Entropic-based MTI LNB, please visit Entropic's infopage at this direct link.
Microelectronics Technology's infopage is locate at http://www.mtigroup.com/index.php