The contract for the Air Force Satellite Control Network is a hot topic with Honeywell having been the contractor of choice for the last 14 years. The new company, CACI International Inc. has hired less than a fourth of the workforce that Honeywell had on the job.
CACI International Inc. has hired 49 people in Colorado Springs to complete a $446 million contract June to operate and maintain the Air Force Satellite Control Network at Schriever Air Force Base. That is less than a fourth of the workforce Honeywell Technology Solutions had working on a similar contract that ended last year.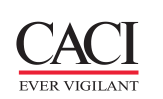 While the Consolidated Air Force Satellite Control Network Modifications, Maintenance and Operations (CAMMO) contract was awarded to CACI International in June, it didn't start until November after the Government Accountability Office denied Honeywell's protest of the award. Honeywell had held the satellite control contract for 14 years before the Air Force combined the contract with two others and substantially reduced the amount of work. Honeywell told the Colorado Department of Labor and Employment in July it planned to lay off 219 local employees in October if it lost the protest.
L-3 National Security Solutions submitted the contract bid before it was acquired in February for $550 million by Arlington, Virginia-based CACI International. The seven-year deal includes reliable launch, remote tracking station and satellite control network operations, including software engineering. Harris Corp. is among CACI International's subcontractors.

The CAMMO contract combines the Air Force Satellite Control Network contract held by Honeywell, the Engineering Development and Sustainment contract held by Lockheed Martin Corp's Information Systems and Global Solutions unit and the Network Space Operations and Maintenance contract held by Harris. Those contracts included operating much of the Air Force's satellite fleet, including data uplink and downlink, command and control, communications, software and testing at Schriever and seven other sites. Air Force officials expected "significant projected savings" from combing the contracts.
CACI International employs about 20,000 worldwide to provide information technology and other services for intelligence, military and civilian government customers. The company forecasted in October that it will earn profits between $150 million and $160 million on revenue of between $4.05 billion and $4.25 billion in the fiscal year that ends June 30.