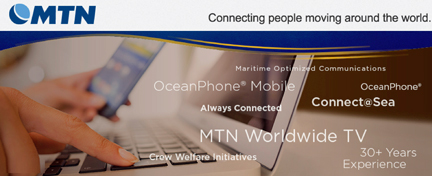 [SatNews] MTN Communications (MTN) has announced its expansion of the world's most powerful maritime and remote broadband communications network in yet another key region through an agreement with NewSat.
The agreement between MTN and NewSat considerably enhances the satellite coverage and throughput for MTN customers in Southeast Asia and Oceania. The agreement extends C- and Ku-band satellite coverage in these regions now, and puts MTN in a strategic position for future service launches, including Ka-band.
Zafar Khan, vice president, systems and space engineering, MTN, said, "The markets where we lead—cruise, megayachts, ferries, oil and gas, commercial shipping and government—are growing in vessel count and in demand on our already robust network. New cruise lines are opening for business. Additional commercial and government vessel operators are seeking our services. Passengers and crew are bringing more devices onboard today than ever. MTN seeks to exceed their needs in terms of access and connectivity to more applications. This is a key move to continue to lead our sectors in network capabilities and in value-added services. In addition, it will add efficiencies to our network in the way we grow our future services."
Between 2008 and 2013, MTN managed a six-fold increase in satellite bandwidth requirements for Internet, content and voice usage on vessels, aircraft and vehicles. Internet logins on the MTN network more than doubled to almost 33 million per year. Voice communications increased approximately 50 percent.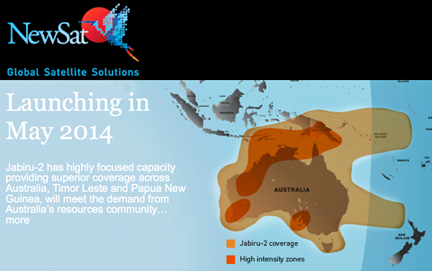 Scott Sprague, chief commercial officer, NewSat, said, "We have been supporting MTN's business for many years as it has continued to grow in the APAC region, strengthening the MTN reputation for delivering the most value and service excellence to customers. It also expands the company's ability to further drive innovation by continually introducing industry firsts. With the launch of Jabiru-2 in May this year increasing our commitment to the Asia Pacific mobility market, we are grateful for MTN's confidence in NewSat and look forward to supporting MTN's global growth long into the future."
For more than three decades, MTN has been a communications industry pioneer. The MTN history of innovation started more than three decades ago by delivering the first live video broadcasts at sea on both above-and-below water vessels for the U.S. Government. Since then, MTN delivered the first live video broadcasts and the first Internet cafés on cruise ships. In addition, MTN launched the first hybrid satellite and terrestrial broadband communications network as part of an ecosystem of advanced computing solutions to deliver a transformative, land-like experience at sea.
To learn more about NewSat, please visit http://www.newsat.com/
For further details regarding MTN Communications, please visit http://www.mtnsat.com/