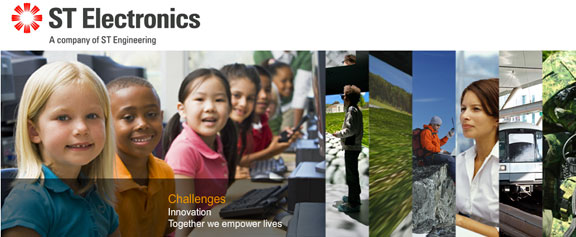 [Satnews] ST Electronics (Satcom & Sensor Systems) Pte Ltd. has released their Agilis RealTime Advisor™.
This web-based software provides satellite service providers a complete view of the entire communications network, along with intelligent analysis that improves quality of service and reduces operational costs across the business. The Agilis RealTime Advisor™ is part of the Agilis end-to-end Solution, which delivers backbone communication solutions through RF and integrated products, network software and professional services.

Today, operating as a satellite service provider is more challenging than ever. Highly complex hybrid networks that are extensive in scale and expansive in reach must be managed in a way that ties network data closer to the business. Across the network, different equipment operating across all access technologies must be closely monitored with a deep level of network intelligence. The Agilis RealTime Advisor™ helps to turn this data into business value, with true end-to-end monitoring from a single platform, beyond just VSAT devices. This includes any remote hubs associated with the network, as well as broadcast, network and facility support devices.

Real-time analysis into the communication network from the customer perspective, rather than the equipment view, allows current service level agreements (SLAs) to be viewed in real time. Such visibility helps identify network downtime early on with the ability to send real-time notifications to the appropriate personnel. This helps improve uptime and better meet SLAs.

Intelligent features of the Agilis RealTime Advisor™ enable proactive network management. The ability to automatically reconfigure multi-vendor and hybrid networks as needed, as well as multi-layer redundancy and out of band recovery features help improve operational costs.

The Agilis RealTime Advisor™ is built on a private cloud network, but offers the option to run in the customer's data center. Support for network function virtualization provides the ability to run the network management application in a virtualized environment, while the use of cross-platform mobile messaging apps ensure alarm notifications are delivered using SMS, email or even social media.
The Agilis RealTime Advisor™ is being exhibited this week as part of ST Electronics' showcase at Satellite 2016 (Gaylord National Convention Center, National Harbor, Maryland, US) and CABSAT 2016 (Dubai World Trade Centre, Dubai, UAE).
"At SpeedCast we operate a highly complex communications network with multiple access technologies supporting mission critical applications for customers around the globe," said Mr. Pierre-Jean (PJ) Beylier, CEO of SpeedCast International Ltd., who was recently named Teleport Executive of the Year by the World Teleport Association. "The Agilis RealTime Advisor™ is instrumental for our NOC operation, providing proactive management and deep-level analysis of parts of our network, which allows us to provide the best quality service for our customers. Agilis is a trusted partner in our ambitious efforts and delivers significant value to SpeedCast."

"Networks are diversifying, with multiple pieces of equipment that must operate together over mobile, fixed and satellite network to support complex operations and provide significant business value," said Mr. Rajanik Mark Jayasuriya, Vice President/Assistant General Manager for the Satellite Networks Business Group (SNG), ST Electronics (Satcom & Sensor Systems) Pte Ltd. "Satellite service providers need more than what a typical network management system can provide. The Agilis RealTime Advisor™ addresses the growing complexities of managing highly diverse networks, complete with deep analysis that help improve customer service and reduce operational costs across the business."