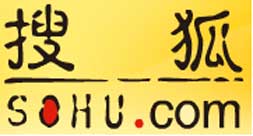 [SatNews] Renewals indicate a job well done, and here's to another year...
DigitalGlobe (NYSE: DGI), a global provider of high-resolution Earth imagery solutions, today announced that China's leading online media, search, gaming, community and mobile service group, Sohu.com Inc. ("Sohu"), has renewed its annual subscription for DigitalGlobe imagery and expanded its coverage from 44 cities to 100 cities.
This will enable Sohu to provide its end-users with more up-to-date maps, greater coverage of the Chinese landscape, and increased functionality in its personal navigation devices.
"Sohu is pleased to continue its partnership with DigitalGlobe to provide the most current and most extensive imagery of the Chinese landscape to our end-users," said Bill Kong, director of Sohu Map. "With this partnership, we can continue to deliver an even richer, more engaging experience across our entire portfolio of online, gaming, and mobile services."
Sohu has used DigitalGlobe content for the last three years. This latest agreement extends Sohu's access to DigitalGlobe's industry-leading Image Library. The Library offers customers over 1.8 billion square kilometers of highly accurate imagery, with 2 million square kilometers of fresh imagery added each day.
Sohu is the first online map service provider in China to use satellite imagery.
"DigitalGlobe is honored to continue working with one of the leading innovators of online location-based services in China," said
Takayuki Odawara
, head of North Asia commercial operations at DigitalGlobe, Inc. "We are confident that this expanding relationship will enable Sohu to strengthen its position in the market and enhance the user experience through access to the world's largest and most current commercial imagery library."
Terms of the agreement were not disclosed.
Sohu expects to debut its expanded imagery content on its website in the first quarter of 2012.