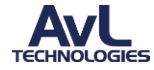 AvL Technologies has three new strategic hires on its Engineering team.
Ian Timmins, Ph.D., has joined AvL as Principal RF Engineer and is responsible for key research and development efforts. Dr. Timmins previously served as VP of Engineering for Optical Cable Corporation in Asheville, and held a research role at Memorial University of Newfoundland where he obtained his Ph.D. He also has worked for DELL Computer Corp. and Cisco Systems. Ian has extensive electromagnetics and RF antenna experience.
Rich Tarpley has joined AvL as Director of Strategic Product Development. Rich is leading AvL's integration efforts for customer-requested systems integration and for AvL-developed antenna systems integration. Prior to joining AvL, Rich was President and CEO of PathFinder Digital where he managed all technical operations for the company and large government projects. Rich also has served in management positions for Wegener Communications, BitCentral, General Instrument Corporation, COMSAT RSI and Scientific Atlanta. Rich has an Associates of Applied Science Degree in Electronics Engineering Technology from DeVry Institute of Technology and has held Top Secret Clearance for the U.S. Department of Defense.
Wayne Holt recently joined AvL as a Senior Mechanical Engineer with extensive structural analysis, thermal analysis and design expertise. Wayne holds a B.S. in Mechanical Engineering from Texas Tech University and has significant engineering design experience at other satellite antenna manufacturers including ViaSat, ASC Signal (formerly Andrew) and General Dynamics Satcom (formerly VertexRSI). Wayne also worked for Lockheed Martin.