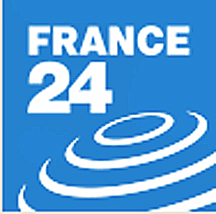 In addition to France 24 SD channels (in French, English and Arabic), and the radios RFI and Monte Carlo Doualiya, France 24 has just started broadcasting two HD channels: France 24 HD in English and France 24 HD, both in Arabic, exclusively on Arabsat Badr 4 — France 24 HD French will follow next year.

Khalid Balkheyour, Arabsat President and CEO, said that France 24 has been a long standing customer since the creation of the channels and Arabsat is particularly proud to announce the launch of their HD channels at 26°E. By choosing Badr4, France 24 will enrich an attractive ultra-clear content to audience covering most of Europe, Africa, and the Middle East. Arabsat is committed to continue its efforts to attract premium broadcasters to provide to Arab communities in Europe with crystal clear picture quality and sound.
Marie-Christine Saragosse, Chairwoman and CEO of France Médias Monde, the group in charge of French international broadcasting, including France 24, added that her firm is delighted to strengthen ties with Arabsat, allowing France 24 to better serve North Africa, the Middle-East and Europe, to reach close to 200 million homes. Thanks to this new agreement, France 24 in Arabic is now broadcast for the first time in HD quality across the region.