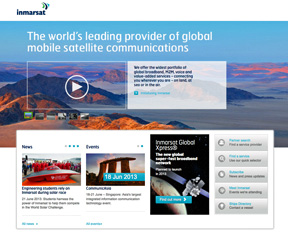 [SatNews] Inmarsat (LSE: ISAT.L) has announced its sponsorship of Solar Team Twente, a group of 16 Dutch engineering students who will compete in the prestigious World Solar Challenge, which takes place in Australia from 6th to 13th October 2013.
The team's 'cutting-edge' solar powered vehicle—named 'The RED Engine' —was unveiled this week by King Willem-Alexander and Queen Máxima of the Netherlands.
The World Solar Challenge is a biennial, solar-powered car race, which covers 3,021 km (1,877 miles) through the heart of the Australian 'outback', from Darwin to Adelaide. Participating in the challenger class, students from the University of Twente and Saxion in the Netherlands will be supported by Inmarsat, which is providing vital mobile satellite communications equipment, connectivity and on-the-ground support both in Holland and Australia.
During the race, 'The RED Engine' will be wirelessly linked to a support team in a control vehicle following the event car. They will receive live telemetry from the 'The RED Engine' to enable them to modify their race strategy to suit ever changing environmental conditions. Using Inmarsat's BGAN global mobile broadband service, the team members in the Decision Control Unit (DCU) car will be able to access data from anywhere in the world, including the latest images from weather satellites, and connect to other support vehicles, which may be several hundred kilometres apart.
Inmarsat's BGAN service will also be used by the team in Australia to ensure friends, family and fans are kept up-to-date on the race vehicle's progress through updates on their website and via social media. The university students will also be equipped with IsatPhone Pro handheld satellite phones and in the unlikely event of medical or mechanical emergencies, they will be able to call for help, even in the most remote parts of the 'outback'.
The support team, which will travel alongside the race car in a convoy of scout vehicles, a Decision Making Unit (DMU) vehicle and a Media car, will be equipped with BGAN terminals. Compact and lightweight, the vehicular BGAN terminal provides immediate access to Inmarsat's global satellite-based broadband network. The race team will benefit from continual, real-time reports on any shifting weather patterns and road conditions that may affect the race car's performance.