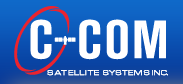 May was a good month for C-COM Satellite Systems Inc., (TSXV: CMI), designer of commercial grade mobile auto-deploying satellite antenna systems with orders received for more than $1 Million for its iNetVu® Driveaway antenna systems.
Mobile VSAT systems are critical to exploration markets, and C-COM's offerings provide one-button, auto-acquire capability that deliver broadband Internet, voice, video and data connectivity needed to monitor remote equipment, hasten critical operations, and ensure general welfare of field crews.
The orders are for .98m and 1.2m new generation and classic iNetVu® vehicle mount antenna systems which will be deployed for oil and gas exploration throughout North America. Several antennas have already shipped, while others will be drawn down over the next few months.
C-COM reports that their motorized antenna systems have been considered the standard in this and other rapid deployment applications such as emergency response, because of their ease-of-use, high reliability and cost-effectiveness. There are thousands of iNetVu® antennas operating from the coldest and most remote parts of Canada and Russia, to the most scorching and arid conditions of Africa, Australia and the Middle East.
Drew Klein, Director of International Business Development for C-COM Satellite Systems. said that they are pleased to see a rebound in the oil and gas exploration market, which has been languishing for some time. C-COM is proud to support the tireless workers in the field with the most reliable VSAT antenna system available for mobile Broadband via satellite.

The Company offers classic and next generation Driveaway, Flyaway, Fixed Motorized, and Backpack systems for any vertical market where communications are challenging due to disruption or deficiency. C-COM has more than 20 different Comm-on-the-Pause antenna models, integrated with all major modem manufacturers, approved with most major satellite operators, and is working closely with more than 500 active dealers in over 100 countries.

Working with a renowned research team at the University of Waterloo, the Company has been developing an electronically steerable, Ka-band flat panel antenna system based on phased array technology with the potential to revolutionize satellite's addressable market in all mobility markets: land, airborne and maritime.