The new lightweight Ku- terminal from Satcube provided throughput of 10 Mbps over the Intelsat EpicNG satellite network during testing in Washington DC.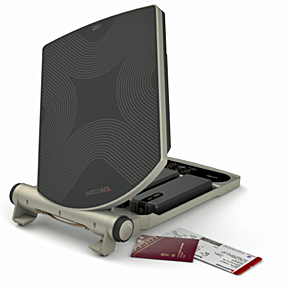 Governments have long had access to manpack terminals; however, organizations with smaller budgets couldn't afford to acquire them. Now Swedish manufacturer Satcube has successfully demonstrated their lightweight, affordable terminal that combines high throughput and extreme portability.

The test was performed in cooperation with Intelsat and UHP Network using the UHP 200 modem. The terminal's efficiency was demonstrated by requiring only 5 MHz bandwidth to deliver the 10 Mbps of throughput over Intelsat 29e, one of the Intelsat EpicNG HTS.
Optimized for use with High Throughput Satellites, the terminal weighs only 8 kilos and can be carried onto planes as cabin luggage. The Satcube Ku- terminal is designed to meet the demand for broadband connectivity in remote areas without any need for engineering expertise.

Jakob Kallmér, founder of Satcube, stated that the company will show the outstanding performance from a small integrated terminal that takes less then a minute to point and is as easy to buy and use as an iPhone.