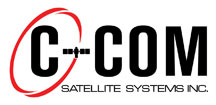 C-COM Satellite Systems Inc. (TSXV: CMI) has signed a contract with one of their long-standing, integrator partners, pursuant to which the partner is permitted to order up to US$2 million worth of C-COM's products over a five year period of time.

AltegroSky is a leading VSAT satellite communication operator in Russia, with subsidiaries that include satellite operators CJSC "Rais Telecom," CJSC "SETTELECOM," CJSC "Moscow Teleport" and system integrator LLC Altegro Engineering. The company has been reselling for more than a decade and has created unique integrated solutions in many vertical markets, including Emergency Services (police, fire, ambulance), Oil & Gas exploration, Broadcasting, and Mobile Banking for rural Russian communities.
There are no minimum commitments on the part of AltegroSky under the supply agreement and some of the terms of sale of products under the agreement shall be determined at the time of order.
Executive Comments
Drew Klein, the Director of International Business Development for C-COM, said the multi-year contract valued at US$2 million covers the company's extensive line of iNetVu® mobile antenna systems. This agreement shows long-term interest from one of the firm's most active integration partners in the region operating in demanding environments to deliver the highest quality product to their customers.
Tatyana Shumaeva, Head of Marketing for Altegrosky, added that cooperation with such a respected international company as C-COM Satellite Systems is strategically important for GC AltegroSky. The concluded, new, supply agreement that meets the growing demand for mobile satellite communications solutions is the best confirmation of the quality and relevance of C-COM's iNetVu® mobile antenna systems in Russia.