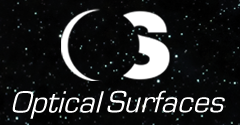 Optical Surfaces Ltd. has received an order from Surrey Satellite Technology Ltd. (SSTL) for two, high precision reference mirrors to accelerate the precise alignment and testing of their Earth Observation Satellite Telescopes.
Based in Guildford, UK, Surrey Satellite Technology Limited (SSTL) manufacture and operate small to medium sized satellites, covering a range of use cases, from telecoms to Earth Observation (EO). These satellites are a core product for SSTL and each smallsat undergoes a rigorous process of testing and verification before and after launch. As SSTL's business has grown, the company required additional high precision reference mirrors to enable testing of its telescope optical systems in parallel.
Executive Comments
Dr. Aris Kouris, Sales Director at Optical Surfaces Ltd. said that the company is pleased to have been entrusted, once again, by SSTL to deliver two, demanding, mounted reference flat mirrors for the purposes of verifying the wavefront performance of their EO telescopes during their assembly and as an alignment aid. The clear aperture of these mirrors was 300 mm. in diameter with a central hole of 100 mm. in diameter and the achieved surface accuracy was nearly L/15 P-V at 633 nm. This target was particularly challenging since the mounted mirrors had to be tested in a 'non-standard' vertical orientation.
Ensuring that the Lambda/15 p-v target was a true representation of the mirror required extensive testing and consequent adjustments in both, the testing as well as mounting strategy. During these tests all, possible sources of error were isolated, analyzed and accounted for to confirm in a positive manner that the high specifications of the mounted mirrors supplied to SSTL were what the company claimed them to be. Potential sources of error during the testing included intrinsic errors in the reference flat, mounting distortions on the reference flat and the UUT as well as gravity effects on both the reference flat and the UUT. All these errors had to be disentangled and considered during the manufacturing process and we feel that we have done this in the best possible and most reliable way. The company is extremely pleased with the outcome and in being able to assist SSTL with their challenging alignment and testing requirements.
Dr. Robin Cole, Optical Systems Engineer at SSTL, added that there are very few suppliers who can produce such large optics with the specifications the company requires. SSTL had an additional requirement for a custom mounting configuration, for which Optical Surfaces Ltd. were able to propose and deliver a suitable design. SSTL has worked with Optical Surfaces Ltd. on previous projects and have high confidence in their ability to deliver high specification optics on time and at a competitive price. From start to finish, Optical Surfaces Ltd. operate a highly efficient and professional service, always engaging with enthusiasm and drawing on decades of experience to provide robust and innovative optical solutions".
For further information about Earth Observation Satellite design and development at SSTL please visit .
For further information on challenging optical systems for space research please visit https://www.optisurf.com/index.php/products/flats-and-windows/flats/ or contact Optical Surfaces Ltd. on +44-208-668-6126 / sales@optisurf.com