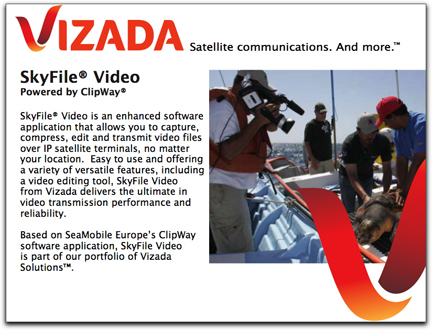 Vizada has launched a new video tool: SkyFile Video powered by ClipWay(r).
The software can be downloaded onto any computer and enables users operating in remote areas to edit, compress, and send video images over a mobile satellite terminal.
SkyFile Video
powered by
ClipWay
® is built on software developed by
SeaMobile Europe
, a mobile satellite service provider and specialist in video solutions. It provides an all-in-one tool with improved compression rates and more user-friendly features and interface than the previous version of SkyFile Video. Customers include NGO workers providing a video evaluation of crisis situations, yachtsmen sending images of race progress for broadcast back to journalists on land and oil & gas or mining engineers reporting field data back to head office.
Once the customer has filmed images using a separate video camera and downloaded them onto their PC, they can then use the tool to edit them. The built-in compression tool enables the customer to reduce the size of the edited file, and send it over a mobile satellite terminal to a free FTP storage site hosted by
Vizada
, where the images can be picked up online by the recipient. The user interface has been developed to enable customers to complete these functions without a high level of technical expertise. SkyFile Video powered by ClipWay® can be used on land, at sea, or in the air with IP-based mobile satellite terminals such as
Inmarsat BGAN
,
FleetBroadband
and
SwiftBroadband
, Iridium OpenPort and
ThurayaIP
, or with ISDN services such as
Inmarsat GAN
and
Fleet
.