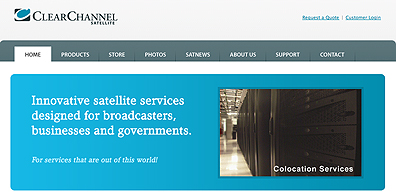 Expand Networks has enhanced Clear Channel Satellite's managed service offerings as a result of Expand's WAN optimization technology.
Expand is known for their optimization of WANs for branch office consolidation and virtualization, and Clear Channel Satellite, a division of CC Media Holdings, Inc., is recognized for their satellite communications for both government and large enterprises.
Recognized as a true managed service, the
XtremeSat Plus service eliminates the complexity of managing technology enhancements, upgrades and management costs for the customer.
The monthly or quarterly pricing structure means that
customers do not need to worry about the upfront costs of deploying the solution
which offers increased improvements in IT resource and efficiencies while reducing IT costs and therefore saving on CapEx.
A major reason for Clear Channel Satellite choosing Expand Networks' Virtual Accelerator (VACC) solution was its
ability to be deployed within the existing virtualized IT infrastructure at the data center, running on Clear Channel Satellite's existing server platforms, therefore eradicating additional IT cost and complexity.
Furthermore, the VACC enables Clear Channel Satellite to easily scale its services on-demand by simply adding additional instances of its VACC onto the existing server platform at the data center, while offering flexible deployment options of physical or virtual appliances at the remote sites.
According to
Monty Dent
,
Sales Manager at Clear Channel Satellite
, the addition of Expand Networks' high speed application delivery will address the specific needs of today's performance driven, cost-conscious public and private organizations. He explains, "
With its ability to dramatically improve application performance, this new enhancement option enables more organizations, users and applications to take advantage of our extensive and powerful satellite reach. The enhanced service delivers increased levels of performance across all business critical applications, ensuring enhanced user productivity at lower costs than previously achievable without optimization.
"
Expand's WAN optimization technology, with integrated
Space Communication Protocol Standard (SCPS) technology, mitigates the effect of low bandwidth and high latency obstacles that can traditionally impede the speed and performance of applications over satellite links.
Combining SCPS with compression, byte-level caching and layer 7 QoS,
Expand's technology can accelerate critical productivity tools and business applications across ClearChannel's satellite environments by over 700 percent.
The enhanced XtremeSat service, available now, is helping improve end user productivity at price points that rival traditional "land-based" connections.
Dent explains the benefits of the service, "
Any location that can receive satellite reception can now realize high speed application delivery at reasonable costs, enabling and extending other key corporate initiatives to all remote branches.
For example, Clear Channel Satellite customers can now implement cost-saving projects like virtualization and branch-office consolidation previously reserved for only terrestrial connectivity."
"By offering WAN optimization as part of a managed service, customers can extend their communications investment to
optimize the productivity benefits at reduced CapEx costs
," comments
Andrew Mullen
,
VP Sales, Americas at Expand Networks
. "As demand for optimum satellite performance rises, this is a compelling virtual proposition for service providers operating in this competitive marketplace. It's not just about superior application performance alone, but coupling this with service investments that make sound economic sense for organizations looking to lower IT support costs.
Mullen concludes, "
As a proven technology, Expand's WAN optimization is adding clear value to Clear Channel Satellite's managed services
. By increase service levels, managed service providers can help organizations to increase efficiency whilst reducing complexity now and into the future, without the need for large upfront investment."