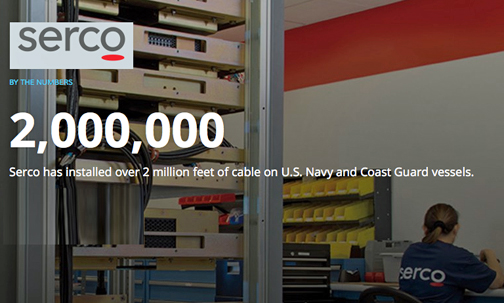 An important win for this firm's Defense Sector as well as the ship modernization market has been announced by Serco Inc.
The company is a provider of professional, technology, and management services and they have announced the US Navy's SPAWAR Systems Center Atlantic (SSC Atlantic) has awarded them a new contract to deliver a full range of Command, Control, Communications, Computers, Intelligence, Surveillance and Reconnaissance (C4ISR) installation services onboard the USS HARRY S. TRUMAN. The ten-month contract is valued at $18.9 million.
The award was issued as a task order under the indefinite delivery, indefinite quantity (IDIQ) Global Installation Contract. Serco will provide installation support services of the Consolidated Afloat Networks and Enterprise Services (CANES) system, which combines numerous shipboard networks into one consolidated network system. The Company will also deliver SATCOM and supporting C4ISR system upgrades.
Under the $1.4 billion IDIQ contract vehicle, Serco competes for task orders to deliver services in the areas of program management, engineering design, and installation support services at shore facilities and on surface ships, submarines, and other Navy and DoD platforms. The work will continue to be performed on the east and west coasts, and additional locations across the globe. Over the first five and a half years of the contract, Serco has been awarded approximately 275 task orders, valued at over $400 million.