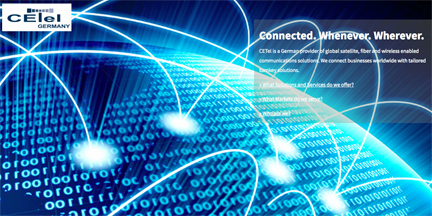 [Satnews] Due to operator Spacecom losing contact to their AMOS 5 satellite over this past weekend, which resulted in a complete service outage, Spacecom's customers are now in need for a shortly available and reliable alternative.
CETel provides business contingency services to all affected parties and customers. With available capacity on various satellites from different operators, such as Arabsat, Intelsat, SES or ABS, CETel is able to cover all affected areas and provide alternative services on existing technological platforms in C- and Ku-band quickly. The company's field service partners all over Africa are standing by to help adjusting customer equipment as soon as possible in order to minimize any further service outage.
This business contingency service can include procurement of satellite capacity, project management, field service and any required teleport service including Internet, network (e.g., MPLS, VPN) or voice access. Together with CETel's engineering team, the firm aims for a quick and efficient transition, in order that customers' services will be back online as soon as possible.
CETel is a German provider of global satellite, fiber and wireless enabled communications solutions with a portfolio that covers the full range of partly and fully managed services for customers from key industries, such as Mining, Energy, Corporate, Banking or NGOs. The engineering team tailor solutions specific to the needs of customers to maximize cost-efficiency. With their own teleport infrastructure located in Germany with redundant backbone connections and more than 25 satellite antennas pointed at satellites between 70 degrees West and 76 degrees East, CETel states they will be able to provide reliable and professional solutions for customers.