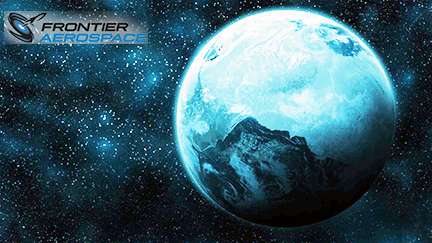 Frontier Aerospace Corporation has been selected by NASA's Space Technology and Mission Directorate (STMD) for a "Tipping Point" award to provide flight qualification of Frontier's Deep Space Engine (DSE) that uses MON-25/MMH propellant.
The DSE engine will enable the design of smaller and less expensive propulsion systems for spacecraft as a result of the lower temperature freezing characteristics of MON-25/MMH propellant.


Frontier teamed with Astrobotic of Pittsburgh, Pennsylvania, to win the award, with Frontier to provide five DSE thrusters under the program for use in Astrobotic's Peregrine lunar lander planned for launch at the end of 2020. The DSE thrusters will be integrated into a propulsion system provided by Dynetics of Huntsville, Alabama, for trans-lunar injection, several Lunar Orbit Insertion (LOI) decelerations, a breaking maneuver, and finally a powered descent to the lunar surface.
Frontier's use of MON-25/MMH propellant in their DSE thruster design was key for the award selection. The lower freezing point of MON-25/MMH propellant in comparison to typical propellants will enable propulsion systems with lower power requirements which translate to smaller and less expensive spacecraft systems.
Executive Comment
Jim McKinnon, President of Frontier Aerospace, said the company is delighted to be selected for this award and to be a part of Astrobotic's Peregrine lunar lander mission. The DSE thruster fills a significant need in the commercial marketplace. Potential uses include long-duration science missions to asteroids, Mars, Europa and other exomoons, and lunar landers, as well as short-duration missions for the Missile Defense Agency (MDA).
Sharad Bhaskaran, Mission Director at Astrobotic, added that the company is proud to support Frontier in the development of the next generation of deep space engines. These engines are ideally suited to power Astrobotic's Peregrine Lunar Lander.