Learn how satellite facilities are reducing their energy consumption and costs while protecting their antennas from outages due to snow, ice, rain and weather.
Walton De-Ice will unveil their all-new Walton ADC-4000 Antenna De-Icing Control System at IBC2017 at their booth, 1.A62. The Walton ADC-4000 makes the operation of Walton hot-air de-icing systems more accurate and efficient than ever, offering potential savings in management and labor overhead for satellite broadcast and head end facilities.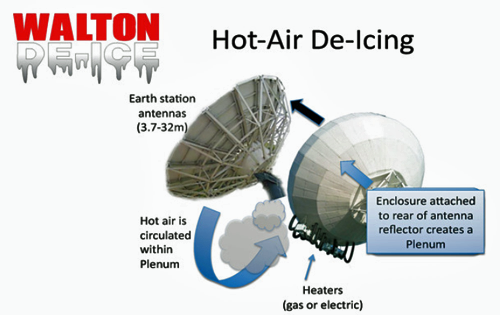 The ADC-4000 Antenna De-Icing Control System adds a new method to actively control the heat within an antenna de-icing enclosure thus allowing for improved control of the antenna surface temperature, viging users control of the actual temperature on their dish.
Bill Walton, the President of W.B. Walton Enterprises, Inc.., commented that the unique Hot-Air De-Ice design for antennas sized from 3.7 to 32 meters provides the most economical and reliable system on the market, with CE-approved forced-air heater options and electric, liquid gas or propane fuel flexibility. With this improved temperature control and monitoring solution, automatic activation can lower De-Icing operational costs for broadcast and satellite customers.
Key and new features of the ADC-4000 include:
Automatic De-Icing — lower operational costs / overhead
Rain and Snow Detection
Manage heaters, blowers, rain diverters to ensure ice-free operation without on-site personal assistance
Temperature monitoring on/at antenna
System includes DP-10 (1RU Indoor Unit), DS-18 module enclosed in outdoor Power Distribution Panel (PDP), temperature and moisture probes.
New way to actively control heat within antenna de-icing enclosure
Improved control of antenna surface temperature
Digital Display — Set Triggers, Temperature Span, Monitor Operating Temperature in sections of Antenna
DP-10 are EMF/RFI rated - to support Defense applications
Interface with external M&C systems via RS-323, 4-Wire RS-485, IP Ethernet/Fiber
Additionally, with the many new non-geosynchronous commercial satellite constellations under development, Earth station designers continue to look for more cost effective solutions — antenna de-icing and weather protection is an input to link performance and system costs that should not be ignored.
A new variant of Walton Snow Shield antenna cover technology suggests cost advantages when compared to a traditional radome approach for LEO/MEO tracking antennas. Non-GEO earth station antennas reflectors have to track a satellite as it moves "across the sky" over a few hours, or rapidly during a period of minutes. With a Medium Earth Orbit (MEO) in up to a 12,000 km circular orbit, the time that an Earth station antenna has line-of-sight could range from 2 to 20+ hours. For LEOs orbiting from 500 to 1500 km, line-of-sight visibility may be only 10 to 40 minutes. Many systems use Ka-Band, which requires high antenna accuracy and they are subject to high loses due to rain and water.
During rain, as an Earth station's un-protected main parabolic reflector tracking a satellite points skyward towards zenith, water can accumulate in the reflector. Depending on the rain intensity, shape, movement and position of the antenna reflector, this can create a "fishbowl" effect for several minutes or hours — creating link losses and reflector distortion. Slush, and snow accumulating in a non-GEO tracking while the reflector is pointing skyward can also create a "bird bath" or "Fishbowl effect. A traditional radome antenna cover prevents this effect.