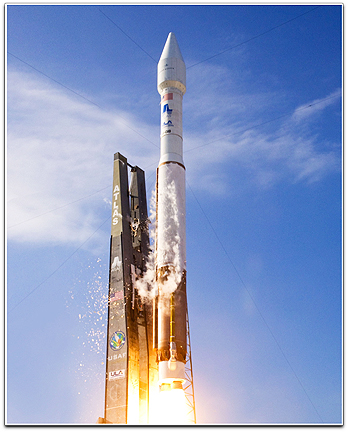 A nexgen (and secret) satellite, designed and built by Lockheed Martin [NYSE: LMT] for the U.S. government, is performing as required following its successful launch from Cape Canaveral on September 8th aboard a United Launch Alliance Atlas V launch vehicle, with the Lockheed Martin team successfully completing a series of key activities toward delivering the spacecraft for customer use.
The program, designated
PAN
, was awarded to
Lockheed Martin
in October of 2006. It consists of a novel and robust turnkey commercial-based satellite, ground and launch system solution developed to meet the government's future needs. The PAN satellite is based on Lockheed Martin's configure-to-order
A2100
spacecraft series and leverages mature commercial space technologies and unique Lockheed Martin processes that enabled delivery of a high-quality, low-cost solution with reduced cycle times for the government customer.