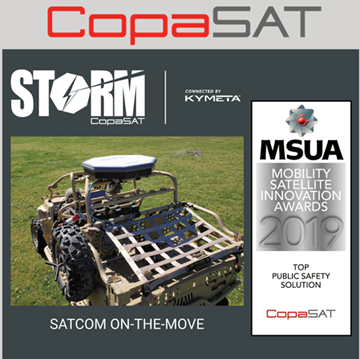 CopaSat has reached an agreement with Virideon, Inc., and Bluesky Innovations, to purchase the intellectual property and assets for the Virideon Intelligent Power and Energy Router (VIP/ER) product line — the closing is expected to occur before the end of the month.
Obie Johnson, CEO, CopaSAT, said the Virideon line is a perfect extension of the company's solutions. There are many locations where bringing in trailers and generators isn't feasible or desirable.
Through this acquisition, the company is focused on expanding the work the firm has already done with Virideon to further develop the lightweight, modular power solution for sustained mobilized operations.
The VIP/ER makes it easy to bring power with you, set it up in minutes, tear it down and set it up again. Tactical, forward-deployed units work in fluid situations; power is now going to get even easier to deploy.
David Spilker
, President, Virideon, added that CopaSAT understands the needs of the connected warfighter. They previously added a custom power module to the VIP/ER to provide the required DC output for standard and enhanced power for SATCOM terminals. CopaSAT has the talent and product development expertise to take the Virideon VIP/ER product line to the next level to deliver game-changing mission-ready power for the nation's deployed military forces and remote commercial operations.