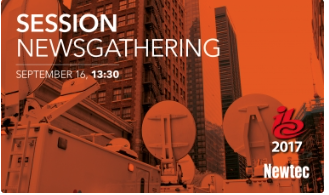 A dramatic evolution has occurred in the manner in which live news events are covered, resulting in new demands on news gathering equipment.
Newtec will be addressing this issue at IBC with a seminar
Transitions in Broadcast: Advanced IP Newsgathering
September 16 from 13:30 - 14:30
Session room G106 (1st floor)
Check-in & Light Lunch: 13:00
Session Start: 13:30
Newtec's experts provide their insight regarding the following topics:

"Boosting SNG"
To cover live news events, camera crews deploy mobile solutions capable of transmitting video, voice and other services over a single multiservice communication link. This is possible by leveraging the power of IP.This link needs to be easy to establish, reliable and offer high network and service availability. Transmission can be performed over multiple networks simultaneously including 3G/4G, satellite Ka-band and Ku-band, etc. When terrestrial transmission becomes contended, the satellite link needs to dynamically scale to higher bandwidths. Hear about how modern satellite technologies can assist broadcasters in their daily work. Hans Massart, Market Director for Broadcast, Newtec (Photo on upper right)
"Innovations in Multi-Network IP Video Contribution"
Intelsat's Peter Ostapiuk will share insights about the IntelsatOne® Prism product evolution and expanding traditional satellite contribution applications to hybrid multi-network solutions that include video, voice, data and internet connectivity. Peter Ostapiuk, Head of Media Product Services and Management, Intelsat (Photo in middle right)
"Solving the Newsgathering Contribution Dilemma: What video transport asset should I deploy
when a story breaks?"
When covering a news story or live event, a critical choice that broadcasters have to make is which video transport asset to deploy. They have to guess which IP networks will be available for the duration of the coverage. They need to have confidence that they can deliver their live feed. Often the choice involves a trade-off between transmission reliability, on-location flexibility, and cost-effectiveness. Bogdan will discuss a new solution that makes this decision easier. Bogdan Frusina, founder, Dejero (Photo on bottom right)