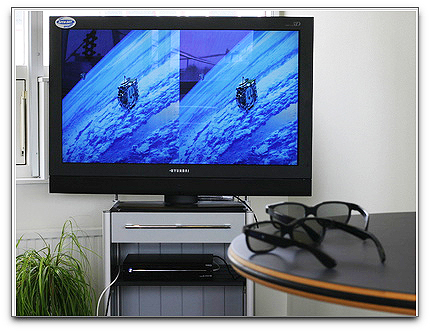 As part of its Advanced Research in Telecommunications Systems program, the European Space Agency (ESA) is taking a practical step towards a new viewing experience — 3D television at home, delivered by satellite.
3D televisions and standard reception equipment are being established at selected sites in Europe. Transmission of a continuous 3D channel began on March 12th, 2009, and the channel offers a range of program lengths and material, including sports, a short film and trailers, and events filmed in live 3D will all be added to the channel's programming. Two types of reception sites are being created: one mimics a home environment using longer content, while the other is a public venue with shorter content. A 'home site' has been set up at
ESTEC
, ESA's research and technology centre in Noordwijk, the Netherlands. The 3D channel is being transmitted from
Eurobird 9A
, located at 9 degrees East, on 11 747 MHz with horizontal polarization and a symbol rate of 27 500. Videos are transmitted in a modified side-by-side arrangement. To view them, a 3D-capable television and appropriate glasses are required. The
Stereoscopic Broadcasting
project, is conducted under the Advanced Research in Telecommunications Systems (ARTES) program within ESA's
Directorate of Telecommunications and Integrated Applications
and is supporting European industry in the development and deployment of the system.