[Satnews] The Society of Satellite Professionals International (SSPI) announces the release of a new video as part of its Better Satellite World campaign.
"The Broadband Economy" accompanies the published story, "Building the Broadband Economy," which discusses the economic advantages of broadband connectivity made possible by satellite services in developing nations.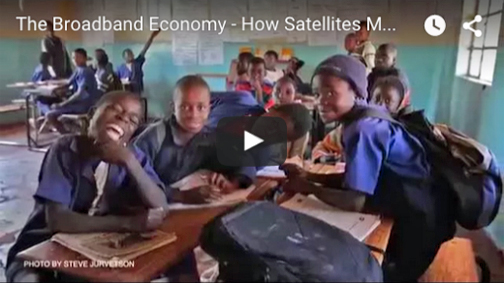 This new video follows the release of "Satellites and the Beautiful Game," released by SSPI in June. All videos in the campaign can be seen on the Better Satellite World video page.
The Society of Satellite Professionals International promotes the growth of the satellite by educating current and potential end-users and the general public about the indispensable contributions of satellites to business, government and human welfare, and by connecting satellite professionals worldwide through education, knowledge-sharing and fostering professional relationships.
Publisher of the only international study of the satellite workforce, SSPI also leads a consortium of industry associations and organizations to promote the ways satellites make a better world. More information on the Better Satellite World campaign is available at http://www.bettersatelliteworld.com/.