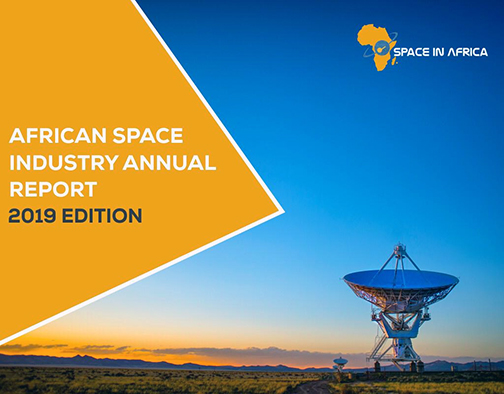 According to Space in Africa's African Space Industry Annual Report for 2019, the African space industry is blossoming into enormous growth — the aggregate GDP of the continent has doubled in the last 10 years, to over $2.2 trillion, and the African space market is now worth more than $7 billion annually.
The Space In Africa infosite projects that the African space industry is likely to grow over 40 percent in the next five years, to exceed $10 billion by 2024.
From 1998 through April 2019, 32 satellites were launched into orbit by eight African countries: Algeria, Angola, Egypt, Ghana, Kenya, Morocco, Nigeria, and South Africa. In addition to the 32 national satellites, African institutions jointly funded three other satellite projects — RASCOM-QAF1, RASCOM-QAF1R, and New Dawn — for regional operations, bringing the total number of satellites to 35.
Fifteen of the 35 satellites were launched in the last four years, indicating the skyward growth rate at which Africa is embracing space technologies to power the continent's growth and improve the lives of its people. The diverse satellite programs include 14 EO satellites, 10 communications satellites, 8 technology demonstration satellites, a satellite for scientific experiments, an educational project satellite, and a military radar satellite.
The major and emerging commercial ventures operating in Africa that are involved in the space industry value chain cross multiple operational sub-sectors, such as satellite systems engineering (including manufacturers), satellite communications operators, propulsion system engineering (including rocket motor manufacturers), and ground station software solution providers. Commercial space companies such as Egypt's publicly traded satellite operator, Egyptian Satellite Co (Nilesat), Nigeria Communication Satellite Limited (NIGCOMSAT), NewSpace Systems, SCS Space, and Space Advisory Company are now generating revenue.
The industry's growth is driven by growing private economies, as complemented by national and regional strategic priorities. The new African Space Agency will complement national space programs while implementing the continental space policy stipulated under the African Union Agenda 2063. This policy looks to grow the industry with a combination of expertise and products from outside of Africa alongside the expansion of African capabilities to grow the industry for the good of all parties.
African engineers built 14 of the 35 satellites, including those they built in Africa and others using facilities outside of Africa. There are multiplying business opportunities for local and foreign companies across the various subsectors of the African space industry. The non-African entities closing the most deals on the continent include Airbus Defence and Space (France), China Great Wall Industry Corporation (CGWIC), RSC Energia (Russia), Surrey Satellite Technology Ltd (UK), and Thales Alenia Space (France).
On the smaller end of the scale, a growing collection of NewSpace startups in Africa have recently attracted investment at more than $200 million of combined valuation.
Approximately 8,500 people work across the African space industry and around 2,000 work for commercial companies, while the others are employed by governments through national space programs and research centres.
The African Space Industry Annual Report is published by Space in Africa, the premier source of space-related news from Africa. Space in Africa has reporters stationed in Kenya, Nigeria, South Africa, Rwanda, and Tanzania who travel around the continent to provide news, analysis, and data on all aspects of the market. To order this report, please access this direct link...
Additionally, Space in Africa has successfully completed its seed funding round. While the terms were not disclosed, the funds raised are being used to hire additional reporters and analysts to expand coverage for its subscription news service and specialized industry reports.