[Satnews] NASA has selected 27 organizations from across the United States to begin negotiations for cooperative agreement awards totaling $42 million to implement a new strategic approach to more effectively engage learners of all ages on NASA science education programs and activities.
Selections were made by the agency's Science Mission Directorate (SMD) in Washington through the Science Education Cooperative Agreement Notice announced in February. Agreement awards can run up to five years, with an additional five-year option. Selectee activities will support Earth science, astrophysics, planetary science and heliophysics.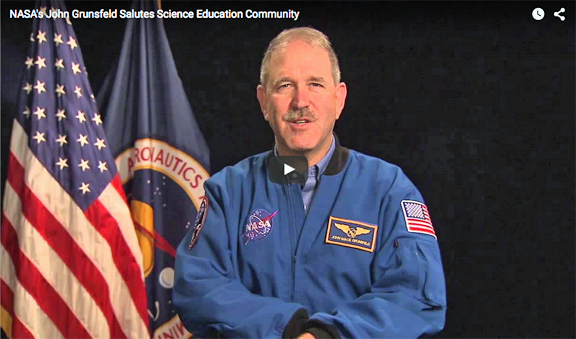 Negotiations for specific monetary awards now will begin and final awards are expected to be made by the end of this year.
With a portfolio of approximately 100 science missions, NASA's commitment to education places special emphasis on increasing the effectiveness, sustainability and efficient utilization of SMD science discoveries and learning experiences. Goals also include enabling STEM education, improving U.S. scientific literacy, advancing national educational goals, and leveraging science activities through partnerships.
The agency's Office of Education in Washington supports the work of SMD by coordinating projects for students, faculty and institutions that broaden the base of those who compete for NASA research awards. All agreements will be evaluated through NASA's Office of Education.
NASA's education programs help inspire and support students from elementary school to college level, and beyond. The agency has provided lifelong learners around the globe the information to become science and tech-literate, a key asset being the inspiration NASA missions provide.
The organizations selected to enter into negotiations leading to cooperative agreements are:
Alabama Space Science Exhibit Commission – Huntsville, AL. Deborah Barnhart, Principal Investigator for "Space Racers: Educating the Next Generation of Explorers about NASA's Missions"
American Museum of Natural History - New York City, NY. Rosamond Kinzler, Principal Investigator for "OpenSpace: An Engine for Dynamic Visualization of Earth and Space Science for Informal Education and Beyond"
Arizona State University – Tempe, AZ. Linda Elkins-Tanton, Principal Investigator for "NASA SMD Exploration Connection"
Challenger Center for Space Science Education - Washington, DC. Stephanie Hall, Principal Investigator for "CodeRed: My STEM Mission"
Gulf of Maine Research Institute - Portland, ME. Leigh Peake, Principal Investigator for "Real World, Real Science: Using NASA Data to Explore Weather and Climate"
Institute for Global Environmental Strategies – Arlington, VA. Theresa Schwerin, Principal Investigator for "NASA Earth Science Education Collaborative"
Jet Propulsion Laboratory – Pasadena, CA. Michelle Viotti, Principal Investigator for "NASA Active and Blended Learning Ecosystem (N-ABLE)"
NASA Goddard Space Flight Center - Greenbelt, MD. C. Alex Young, Principal Investigator for "Heliophysics Education Consortium: Through the Eyes of NASA to the Hearts and Minds of the Nation"
National Institute of Aerospace Associates – Hampton, VA. Shelley Spears, Principal Investigator for "NASA eClips 4D Multi-Dimensional Strategies to Promote Understanding of NASA Science: Design, Develop, Disseminate and Discover"
Northern Arizona University - Flagstaff, AZ. Joelle Clark, Principal Investigator for "PLANETS (Planetary Learning that Advances the Nexus of Engineering, Technology, and Science)"
Science Museum of Minnesota – Saint Paul, MN. Paul Martin, Principal Investigator for "NASA Space and Earth Informal Science Education Network (SEISE-Net)"
SETI Institute - Mountain View, CA. Edna DeVore, Principal Investigator for "Reaching for the Stars: NASA Science for Girl Scouts"
SETI Institute –Mountain View, CA. Dana Backman, Principal Investigator for "Airborne Astronomy Ambassadors (AAA)"
Southern Illinois University, Edwardsville – Edwardsville, IL. Pamela Gay, "CosmoQuest: Engaging Students & the Public through a Virtual Research Facility"
Space Science Institute – Boulder, CA. Paul Dusenbery, Principal Investigator for "NASA@ My Library: A National Earth and Space Science Initiative that Connects NASA, Public Libraries and their Communities"
Space Telescope Science Institute - Baltimore, MD. Denise Smith, Principal Investigator for "NASA's Universe of Learning: An Integrated Astrophysics STEM Learning and Literacy Program"
University of Alaska, Fairbanks – Fairbanks, AK. Elena Sparrow, Principal Investigator for "Impacts and Feedbacks of a Warming Arctic: Engaging Learners in STEM using NASA and GLOBE Assets"
University Of Colorado, Boulder – Boulder, CO. Douglas Duncan, Principal Investigator for "Enhancement of Astronomy and Earth Science Teaching Using High Resolution Immersive Environments"
University of Michigan, Ann Arbor – Ann Arbor, MI. Jon Miller, Principal Investigator for "Demonstration of the Feasibility of Improving Scientific Literacy and Lifelong Learning through a Just-in-Time Dissemination Process"
University of Texas, Austin – Austin, TX. Wallace Fowler, Principal Investigator for "STEM Enhancement in Earth Science"
University of Toledo – Toledo, OH. Kevin Czajkowski, Principal Investigator for "Mission Earth: Fusing GLOBE with NASA Assets to Build Systemic Innovation in STEM Education"
University Of Washington, Seattle – Seattle, WA. Robert Winglee, Principal Investigator for "Northwest Earth and Space Sciences Pipeline (NESSP)"
Wayne County Intermediate School District – Wayne, MI. David Bydlowski, Principal Investigator for "AEROKATS and ROVER Education Network (AREN)"
WGBH Educational Foundation – Boston, MA. Rachel Connolly, Principal Investigator for "NASA and WGBH: Bringing the Universe to America's Classrooms"
Of the 27, three organizations are selected to support the science education associated with the upcoming 2017 total solar eclipse over North America:
Association of Universities for Research in Astronomy, Inc. – Tucson, AZ. Matthew Penn, Principal Investigator for "Geographically Distributed Citizen Scientist Training for the 2017 Citizen CATE Experiment"
Exploratorium – San Francisco, CA. Robert Semper, Principal Investigator for "Navigating the Path of Totality"
Southwestern Community College – Sylva, NC. Lynda Parlett, Principal Investigator for "Smoky Mountains STEM Collaborative: Bridging the Gaps in the K-12 to Post-Secondary Education Pathway"
Executive Comments
"NASA seeks to innovate, explore, discover, and inspire and these selections build upon a legacy of excellence from our science education community," said John Grunsfeld, astronaut and associate administrator of SMD. "STEM education is the enabler of future space exploration and these awards, together with efforts in NASA's Office of Education and other partners, will advance STEM efforts in this country, improve U.S. scientific literacy, and help to inspire our nation. It's an incredible time for science, and NASA is leading the way. People crave inspiration and heroes more than ever, and science reminds us of what we're capable of achieving."
"The Office of Education will assist in working with the selectees for new approaches given their capabilities and priorities," said Donald James, associate administrator for NASA's Office of Education. "Their efforts will help create and sustain the scientific and engineering workforce of the future."
To view a list of the 27 selected organizations, along with an introductory video from Grunsfeld, visit:
http://www.nasa.gov/feature/list-of-science-education-partners-for-nasa-stem-agreements
For more information on NASA's science programs, please visit: http://science.nasa.gov