[SatNews] Crewtoo, the world's largest online network dedicated to seafarers, has launched an online maritime jobs board as a direct response to requests from its members, who have continuously pinpointed recruitment as one of their main priorities.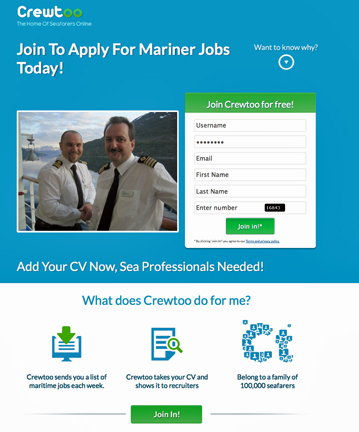 Crewtoo, which has more than 100,000 members and was founded by KVH Media Group, part of KVH Industries, Inc., (Nasdaq: KVHI), premiered the service at Shipping 2014, the annual shipping conference and exhibition of the Connecticut Maritime Association. The Crewtoo jobs board is integrated into the Crewtoo site and enables seafarers to simply change a setting on their profile to state that they are available for work; they are then prompted to fill in their full employment details on the site and upload their current CV/resumé. For the seafarer, membership to the popular social network remains free of charge and, even before the jobs board launch, thousands of seafarers had already taken the opportunity to complete their jobs profile.
Maritime recruiters using Crewtoo can choose from three advertising packages: A single vacancy post, a monthly plan, or an unlimited annual service that includes social media posts and a featured company profile service. Crewtoo members represent a wide range of nationalities, with 55 percent from Europe, 34 percent from Asia and the Middle East, 9 percent from Africa, and the rest from North America, Latin America, and Australasia. Likewise, the membership encompasses a broad range of ranks, including masters, ordinary seamen, chief officers, chief engineers, electrical engineers, deck cadets, engine cadets, and cooks.
In addition to Crewtoo, KVH Media Group has a number of other services aimed at improving crew welfare. NEWSlink is a daily news and information service customized for seafarers, with more than 75 publications in 17 languages delivered by email to vessels around the world. MOVIElink, TVlink, and TRAININGlink provide commercially licensed movies, television programs, and training films for onboard viewing by seafarers, delivered in a range of formats from hard-copy DVDs delivered directly to ship agents anywhere in the world to fully digital services. SPORTSlink provides daily video clips of sporting events.
The KVH infosite may be accessed at http://www.kvh.com/
The Crewtoo recruiting/jobs site is located at https://www.crewtoo.com/