RF-Design
is looking forward to meeting attendees at CommunicAsia2017, which will be running from May 23 through the 25 in Singapore — the company will be located in the German Pavilion at booth #1L2-10) with their RF equipment, RF distribution, RF-over-Fiber and RF/DVB monitoring requirements.
The firm's products are especially designed for RF distribution infrastructures in Teleports, Satellite Earth-Stations as well as for Broadcast and CableTV/IPTV operations.
Learn more about us at the German Pavilion during CommunicAsia 2017 OUR HIGHLIGHTS AT SATELLITE 2017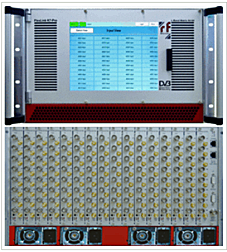 One product on display is the company's FlexLink K7-Pro Extended L-band Switch Matrix:
Future proof, supporting extended L-Band (850 - 2450MHz)
Unique expansion concept for easy future growth
Scalable from 8:8...64:64 up to 256:256 I/O´s
Variable gain-control @ any input
Slope equalization @ any input
RF power monitoring @ any input & output
10MHz external reference signal port
Switchable LNB-supply @ any input
Integrated RF/DVB Signal Quality Analyzer
Easy local & remote configuration
Superior quality & performance
Another product, FLCRplus redundant RF-over-Fiber System, offers...
Versatile and secure optical transmission system
Fits as many as 16 optical transmit and/or receive modules (1RU/19" & 3RU/19" variants)
Indoor and outdoor variants and solutions
Various redundant configurations (N+1 or N+2)
Manual or automatic redundancy switching
Variable gain-control & RF power monitoring
Switchable LNB-supply Laser/Link (TX/RX) monitoring
Easy local and remote configuration
For a meeting at CommunicAsia 2017, please contact o.vogel@rf-design-online.de