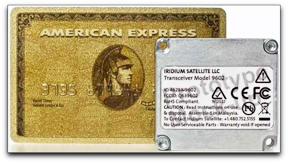 Iridium Communications Inc. (Nasdaq:IRDM) announces that its new satellite data transceiver is ready for market one month ahead of schedule and the company is now accepting orders.
The
Iridium 9602
(tm)
short burst data
(
SBD
) transceiver is lower cost, smaller and lighter than the company's previous model, the
Iridium 9601
(tm) transceiver.
The new form factor is driving the design of many new global
Machine-to-Machine
(
M2M
) data communications solutions by a wider range of Iridium development partners serving broader markets. The culmination of a two year R&D collaboration among Iridium and its technical partners, the Iridium 9602 two-way device is designed to be embedded into partner-developed products and systems that enable remote M2M asset tracking and monitoring. It offers the same reliable, real-time critical communications service that Iridium has delivered since the inception of its SBD service — the company plans to deliver through its nexgen satellite constellation,
Iridium NEXT
. More than 90 Iridium partners have tested the Iridium 9602 for integration into new products. Planned Iridium 9602-based applications include telemetry from unattended sensors, fleet management, enterprise logistics and supply-chain visibility, tracking soldiers and military vehicles, and personal two-way navigation and mapping.