Mr. Christian Baier possesses an Engineer Degree in RF Communication Technologies and has carved a successful career in engineering spanning more than 20 years. He has worked in various posts, from System Engineer in Naval communication systems, to Engineer in test and measurement. He has managed many broadcast projects and worked at EMC system solutions before joining the team at Rohde & Schwarz.
Christian said the company's focus is on High Power Amplifiers for uplink, teleports, ground stations, etc. While the firm does have both military and media customers, the focus at IBC for them is on media customers.
The PKU 100 is their main product on display. This product was launched a year ago and there are new models en route that will offer more power. The R&S®PKU100 is a family of solid-state power amplifiers for the Ku-band with a saturated power of 750W. It features top-notch efficiency in an extremely compact design. The powerful optional adaptive linearization improves the RF parameters in a manner never before available. This amplifier combines the advantages of solid-state and tube-based amplifiers.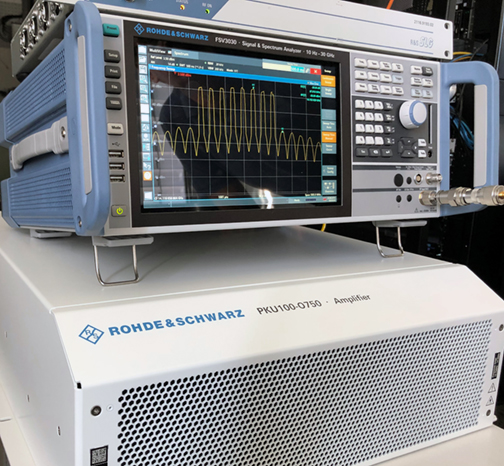 The 400W indoor model weights just 18.3 kg., including the power supply, and requires only 3 RU of rack space. The outdoor model complies with IP65 and weighs just 23 kg. and can be mounted directly on the antenna.
Christian said the company has been manufacturing broadcast transmitters for quite some time; however, the decision to go into the SATCOM sector with amplifiers was a more recent decision. The focus is to drive a technology change in the industry as it is currently still dominated by TWTAs (traveling wave tube amplifiers) and the firm wants to replace those units with solid-state technology. Rohde & Schwarz power amplifiers generate a significantly better signal quality than any other solid-state device. Plus, according to Christian, the Rohde & Schwarz offering is the most compact, the lightest in weight, produces the highest power efficiency and delivers the best signal quality
The firm also offers numerous test products for a variety of applications — they have a full range of spectrum analyzers, power meters for uplink, load generators for stress tests and more.
Christian notes that broadcast customers are using higher and higher data rates and that requires higher bandwidths in the given spectrum. Additionally, high throughput satellite demand for high transmission rates continues to rise.
The SATCOM Ku-band market has traditionally been the largest market segment; however, the move to Ka-, Q- and V-band are quickly taking the industry by storm. Companies will soon have to make the decision whether or not moving into these bands makes business sense for them.
Chris said the Rohde & Schwarz amplifiers are innovative. Customer get a lot of power for the weight and size of the unit. The adaptive linearization tool within the product makes it unique for a solid-state offering. When backed with Rohde & Schwarz service, customers really enjoy working with the firm. Rohde & Schwarz is a strong company that has a deep business heritage and a solid reputation that customers appreciate. Customers know that the company is here for the long-term.
About Rohde & Schwarz
Founded more than 80 years ago, Rohde & Schwarz is one of the world's leading manufacturers of information and communications technology products for professional users. Initially focusing on RF engineering and RF applications in test and measurement, radio communications and broadcasting, the company has continually expanded its fields of activity over the past decades. In the meantime, Rohde & Schwarz has also become one of Germany's largest manufacturers of IT security products.