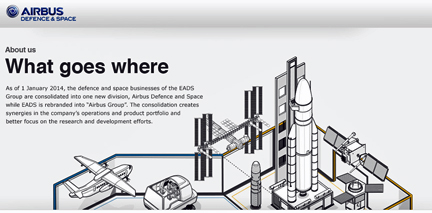 [SatNews] Airbus Defense and Space have expanded their strategic agreement on Global Xpress high-speed broadband with two additional agreements covering the enterprise and defense markets.
The announcement adds new markets and services to the strategic Global Xpress distribution partnership agreement that was concluded in December of 2013 and extends the delivery of the future Ka-band service to Airbus Defense and Space's worldwide distribution channels and customer base. With the new Enterprise agreement, Airbus Defense and Space will offer the Global Xpress subscription service to its large partner and customer base across a range of markets, including oil & gas, mining, energy, NGOs & humanitarian aid, and media, as well as large corporations. The new government sector agreement sets out leasing capacity on military Ka-band spot beams, in addition to subscription services already covered by the original agreement signed in December.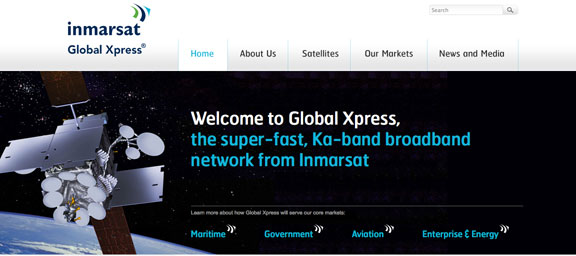 Global Xpress is the world's first globally available high-speed broadband service delivered via a Ka-band satellite network. The full constellation of three Global Xpress satellites is on schedule to be fully deployed by the end of 2014.
"These extensions to Airbus Defense and Space's agreement with Inmarsat further strengthen a long-standing partnership to the advantage of our customers, who improve their operations with Global Xpress, a major asset in our new AuroraGlobal offering," said Evert Dudok, Head of Communications, Intelligence & Security at Airbus Defense and Space. "Airbus Defense and Space is Inmarsat's number one distribution partner and we are eager to continue this strong relationship through Global Xpress."

Rupert Pearce, CEO of Inmarsat, said, "This is an important extension to the strategic agreement we signed with Airbus Defense and Space last year. Today's announcement further highlights Airbus Defense and Space's commitment to Global Xpress and reinforces the game-changing nature of Inmarsat's $1.6bn investment in the next generation of high-throughput satellite (HTS) services. Airbus Defense and Space operates in an unparalleled range of market segments and, together with their powerful network of service providers, will be able to offer our high-speed mobile broadband services to an extensive range of end users."

The strategic global agreement between Airbus Defense and Space and Inmarsat now covers all key vertical markets, including the maritime, enterprise, government and defense sectors. It will encompass all service types—packaged services, bandwidth capacity, as well as commercial and military Ka-band. The agreement is part of Airbus Defense and Space's newly launched AuroraGlobal, a suite of new high throughput satcom services. This new offer, available today, provides the best value next generation satcom-enabled solutions using Airbus Defense and Space's global multi-band network and brings customers one step closer to next generation satcom such as Global Xpress.
The Airbus Defense and Space infosite may be visited at http://airbusdefenceandspace.com/
For additional details regarding Inmarsat's Global Express, please visit http://www.inmarsat.com/service/global-xpress-2