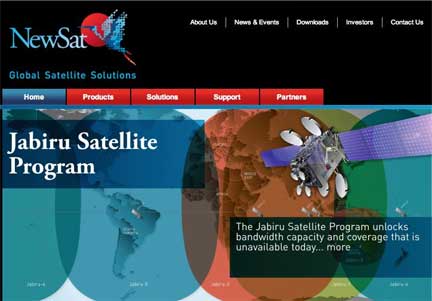 [SatNews] Ka-band is in great demand in the Middle East so much so that a 10-year contract was arranged for $67.2 million.
NewSat Limited (ASX: NWT; OTC: NWTLY)
, Australia's satellite company, announces today the
signing of a 10-year contract with a leading Middle Eastern telecommunications provider for the purchase of US$67.2 million of Jabiru satellite transmission capacity
. The Ka-band satellite capacity purchased will enable the customer to
provide high-speed Internet and data services across a range of high demand regions within the Middle East.
For commercial and competitive reasons the customer details cannot be disclosed at this time and remain confidential. In commenting on the multi-million dollar contract,
Adrian Ballintine
,
NewSat Founder and CEO
said:
"We are seeing more and more demand for Ka-band satellite capacity across the Middle East for Internet, voice and data services. Ka-band blends perfectly for this market and our new carrier-grade telecommunications customer sees the delivery of their Internet and data services via Ka-band as a major competitive advantage
."
"It's a very exciting time for NewSat, as we continue to achieve key milestones in the launch of Jabiru-1, transforming us into a global satellite operator.
Our customer contracts now total US$346 million and last week we announced Lockheed Martin as manufacturer of our satellite, which is scheduled for launch in 2014 with Arianespace."