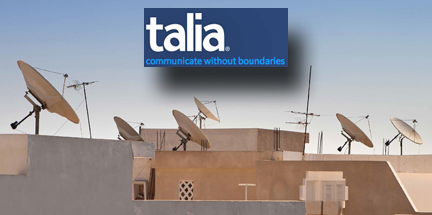 Talia has introduced a business continuity service that will be built on iDirect's satellite ground infrastructure platform.

Talia OnDemand has been designed for organizations operating in regions where fixed line services can be unreliable or where occasional use, backup, redundancy or disaster recovery solutions are required. The service will initially focus on the Middle East and African regions, which represents the most promising VSAT growth opportunities in the world.
Improved service economics, enabled by HTS, will make satellite connectivity more competitive to alternative solutions and increasingly part of the global end-to-end network. The Talia OnDemand service is powered by ConnectPlus, the Talia designed and developed, patent pending connectivity solution working in conjunction with the iDirect Satellite Platform. ConnectPlus is a network edge appliance connecting a customer's network to the Talia OnDemand service.
Jack Buechler, the Vice President, Business Development, Talia, indicated that today uninterrupted Internet connectivity is an essential requirement to the success of organizations. By building this OnDemand service on the iDirect platform, the company is leveraging iDirect's industry-best technology to deliver the reliable performance customers require when it comes to running their core operations
Dave Harrower, the Vice President of International Sales and Business Development of VT iDirect, added that one of iDirect's strategic technology priorities is to integrate satellite communications seamlessly into core enterprise networks, and Talia's OnDemand service showcases precisely how that can be done to enable always-on connectivity for their customers.