Israel Aerospace Industries (IAI) has been awarded a significant contract by a key customer for delivering an advanced SATCOM network system.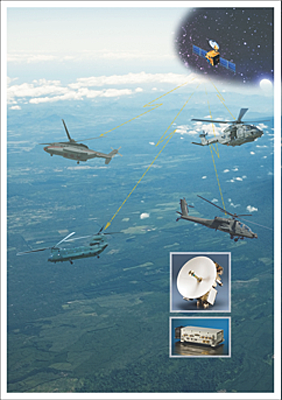 The contract includes several dozens of airborne terminals and ground segments for medium and heavy lift helicopters. This is a follow on contract from the customer, which previously bought SATCOM terminals which were successfully installed and operated onboard attack helicopters. The ELK-1891 SATCOM network will be supplied by 201, and is the latest technology developed by ELTA Systems Ltd., a group and subsidiary of IAI (IAI/ELTA).

IAI/ELTA's SATCOM solutions will be displayed at the Combat Helicopter Show in Krakow, Poland from October 17 through 19, 2017.
According to the company, the innovative ELK-1891 Ku-band SATCOM network was selected for its exceptional performance on rotary wing platforms. ELTA has developed a unique capability for enabling helicopter rotor penetration by mitigating rotor masking. Furthermore, the system offers high spectral efficiency and Low Probability of Intercept (LPI) capabilities, as well as relatively minor integration and installation requirements on-board the helicopter. The system enables Voice and IP data transmission and includes a 30cm dish antenna, High Power Amplifier (HPA), modem and interface to the aircraft avionics.
Nissim Hadas, IAI Executive VP & ELTA President, reported that ELTA has gained vast experience in designing, integrating and installing ELK-1891 SATCOM systems on board various helicopters. These systems are operational for many years with air forces worldwide. A few hundred systems are in service and supported by IAI/ELTA, with customers reporting utmost satisfaction. The firm's expertise has been gained through extensive efforts of working together with the platform manufacturers and end users — this is an important contract for ELTA, which proves the maturity and reliability of this SATCOM product.