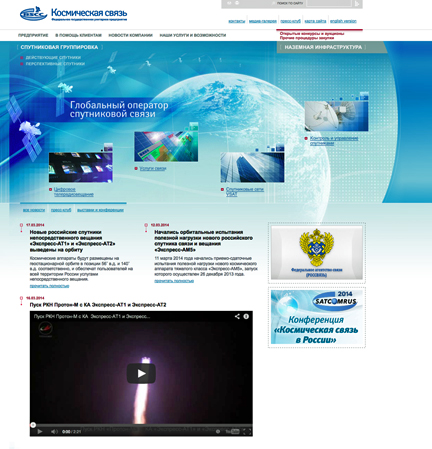 [SatNews] The new Russian communications and broadcasting satellites, Express-AT1 and Express-AT2, were successfully orbited on March 16, 2014.
Proton M lifted off from Baikonur and AT1 and AT2 will be deployed in a geostationary orbit at 56 degrees East and 140 degrees East orbital slots, respectively, to provide DBS services to users across all of the Russian territory. The Express-AT1 and Express-AT2 satellites were ordered by RSCC as part of Russia's Federal Space Program for 2006-2015. The satellites were built by JSC Information Satellite Systems-Reshetnev Company in conjunction with Thales Alenia Space-France. The satellites' active service life is 15 years. Express-AT1 will be commissioned following completion of in-orbit tests in April 2014. Commercial operation of Express-AT2 will start in May 2014.
"The launch of Express-AT1 and Express-AT2 DBS satellites is critical for the development of domestic DBS market. Users in Siberia and the Far East will gain access to new Russian and international TV channels. The networks currently operated by Bonum-1 will be switched by RSCC specialists over to the new satellites after their commissioning, paving the way for many fascinating projects in Russia," said Yuri Prokhorov, RSCC Director-General.
The Russian Satellite Communication Company (RSCC) is the Russian state satellite operator whose spacecraft provide a global coverage. RSCC was founded in 1967 and belongs to the ten largest world satellite operators in terms of satellites and orbital slots. The company possesses the largest satellite constellation in Russia. Satellites located in the orbital arc from 14 West to 140 East and cover the whole territory of Russia, the CIS, Europe, the Middle East, Africa, the Asia Pacific region, North and South America, and Australia.
As the national satellite operator, RSCC meets the important state tasks on providing mobile presidential and governmental communications, federal TV & Radio signal transmission over the territory of Russia and the most countries of the world. The company pays serious attention to implementing high-priority national projects and closely interacts with the Russian state authorities in the field of informational and telecommunications and broadcast systems development. RSCC provides a full range of communications and broadcasting services using its own terrestrial engineering facilities and satellite constellation, which includes state-of-the-art satellites Express-AM, Express-MD, Express-A, Bonum-1, and a part of the French W4 satellite capacity. The company's satellites offer wide opportunities for TV & radio broadcasting, including DTH, IPTV and MPEG-4 services, broadband Internet access, data transmission, videoconferencing, VSAT network deployment, as well as departmental and corporate communications networks worldwide. RSCC has deployed a modern ground satellite management system that is used to control and monitor the company's own satellites, as well as Eutelsat, Intelsat, etc. satellites.
The company includes five Satellite Communications Centers (SCC): Dubna, Bear Lakes, Skolkovo, Zheleznogorsk and Khabarovsk, as well as the Shabolovka Technical Center in Moscow and the company's own high-speed optical-fiber digital network. RSCC reports to the Federal Communications Agency (Rossvyaz).
The RSCC infosite may be visited at http://www.rscc.ru/
Thales Alenia Space expressed their delight at this launch...
The Express AT1 and Express AT2 telecommunications satellites have been successfully launched from Baikonur by a Proton rocket.
The payloads for these two satellites were built by Thales Alenia Space for prime contractor ISS Reshetnev on behalf of the Russian operator RSCC (Russian Satellite Communications Company). Built on the Express 1000 platform from ISS Reshetnev, the two satellites were assembled, integrated and tested at ISS Reshetnev's facilities in Zheleznogorsk, Russia.
Express AT1 will be positioned at 56 degrees East, and offers a design life exceeding 15 years. It will provide about 6.7kW of payload power, and is fitted with 32 Ku-band transponders to cover eastern and western Russia. Express AT2 will be positioned at 140 degrees East and also offers a design life exceeding 15 years. Fitted with 16 active Ku-band transponders to cover western Russia, it will provide about 3.5kW of payload power.
The successful partnership between Russia and Thales Alenia Space reaches back more than 20 years, to the SESAT program. RSCC is a major customer for Thales Alenia Space, which has provided payloads for a large number of its satellites, integrated on Russian platforms: Express A1, Express A2, Express A3, Express A4, Express A4R, Express AM11, Express AM22, Express AM2, Express AM3, Express AM33 and Express AM44 (on ISS platforms), plus the Express MD1 and Express MD2 satellites (using Krunichev platforms).
"We are delighted to share the success of this dual launch with RSCC and ISS-Reshetnev, with whom we also created the joint venture, Universum Space Technologies, dedicated to the production of equipment meeting the latest international standards for domestic payloads," said Jean-Loïc Galle, President and CEO of Thales Alenia Space. "The new joint venture, based in Russia and majority owned by ISS, will enable the two parent companies to address new segments in both Russian and export markets. Thales Alenia Space has made a strong contribution to the consolidation of the space industry in several countries, and we are now firmly established as the natural industrial partner to support developing space programs in leading countries."
The Thales Alenia Space infosite may be visited at http://www.thalesalaniaspace.com/