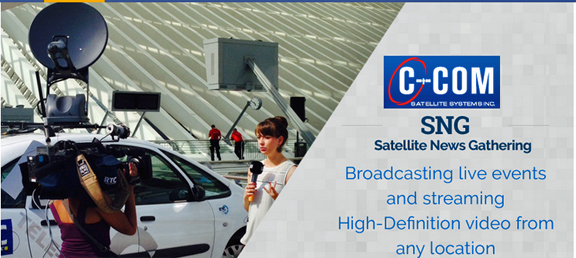 [Satnews] C-COM Satellite Systems Inc. (TSXV: CMI) announces their financial results for the company's third quarter ended August 31, 2015.
The company has generated revenues of $2,798,793 and a net after tax profit of $487,802 or 1 cent per share. This compared to revenues of $2,935,311 and a net after tax profit of $410,500 or 1 cent per share as reported in Q3 2014, representing a decrease of 4.7 percent and an increase of 18.8 percent, respectively. The working capital of the Company has increased by 4.6 percent to $20,089,209 at August 31, 2015, as compared to $19,200,411 at August 31, 2014.
C-COM also announced the payment of its quarterly eligible dividend in the amount of $0.0125 per common share payable on November 13, 2015, to all shareholders of record as of October 30, 2015. Based on the closing price of $1.09 per share on October 13, 2015, this dividend represents a yield of 4.59 percent on an annualized basis. This is the Company's 14th consecutive quarterly dividend and their 18th consecutive profitable quarter.
C-COM continues to develop new products and innovate its existing line of iNetVu® antennas. The Company is developing a Ka-band SATCOM-On-The-Move (SOTM) antenna which will deliver broadband Internet over satellite into vehicles and trains while in full motion. This new product will work with the most advanced Ka-band high throughput satellites. C-COM also continues to establish new partnerships and relationships with companies that have an interest in combining the capabilities of C-COM's technology with the products and services they are offering.
C-COM also announced the retention of the services of Oak Hill Financial, a Toronto-based capital markets communication firm to provide investor relation services on behalf of the Company. Oak Hill Financial has been retained to expand the visibility of C-COM within the professional investment community. Under the terms of the agreement C-COM will grant Oak Hill Financial 400,000 options with exercise prices between $1.25 and $1.75 per share and terms of one to two years. Oak Hill Financial acts at arm's length to C-COM Satellite Systems Inc. and does not have any interest, directly or indirectly, in C-COM or its securities, or any right or intent to acquire such an interest other than the options granted as described above. The initial term of the agreement with Oak Hill Financial is six months but may be extended by mutual agreement. The appointment of Oak Hill Financial remains subject to approval by the TSX Venture Exchange.
Executive Comment
"During the third quarter C-COM expanded its reseller base and added a number of new countries to our already significant presence around the globe" said Leslie Klein, President and CEO of C-COM Satellite System Inc. "Our continued profitability is largely attributable to the Company's ability to produce the highest quality products, at affordable prices for our commercial customers in many different vertical markets. With more than 7,000 iNetVu® systems deployed, in over 100 countries, our products have attained worldwide acceptance as a top brand in this niche market," said Klein.