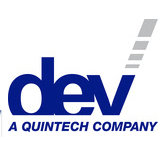 A performance boost is something many mobile news agencies would welcome—these products help in this regard.
DEV Systemtechnik (www.dev-systemtechnik.com), a Quintech Company, unveils the latest expansion of its Matrix Switch product portfolio: the 8to4ty. The 8to4ty L-Band Matrix comes in a space-saving 2RU chassis and is built for applications in Mobile TV Studios, Satellite Newsgathering (SNG), Teleport and High Throughput Satellite (HTS) systems, IPTV Head-ends, and Maritime TV systems.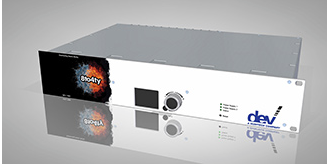 The 8to4ty L-Band Matrix represents an ideal mix of cost and performance, with features such as optical inputs, LNB powering, various connector types and impedances, and a graphical local user interface that provides functional versatility, control and ease-of-use. Features such as input redundancy and an Integrated Spectrum Analyzer (ISA) make the 8to4ty L-Band Matrix Switch an even more valuable component of television transmission systems.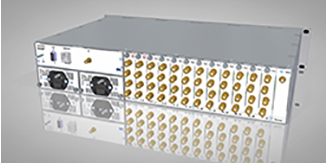 The 8to4ty L-Band Matrix Switch is available in several configurations, including an upgradeable and expandable option. An extra switchable output port comes as a standard feature for monitoring purposes. Additional features, such as adjustable gain and tilt on an individual channel basis, deliver optimized and linear RF transmission.

"Most RF equipment providers have either small or large L-Band Matrix Switches, but nothing in between covering particularly asymmetrical configuration sizes. We have tailored the 8to4ty Matrix Switch to application requirements where our 8² Matrix Switch with 8x8 in 1 RU is too small and the ARCHIMEDESDistributing Matrix is too large with up to 64x64 configurations. We filled this gap now with a Matrix Switch which still has all the benefits and features of the other two flagships of the family." says Oliver Herzberger, Strategic Technology Manager at DEV Systemtechnik. "The new 8to4ty Matrix is tailored to Broadcasters needs and streamlined with respect to size and price."


About DEV Systemtechnik: DEV Systemtechnik (http://www.dev-systemtechnik.com), a QuintechCompany, develops and produces a complete range of cutting-edge, high-performance products and systems for the optical and electrical transmission of Radio Frequency (RF) signals via coaxial cable or fiber for satellite, cable, and broadcast television head-ends. All products are built to meet the highest standards of system availability, reliability and controllability.