[SatNews] Unmanned systems brings a whole new world of laws, opportunities and how to use the technology in a circumscribed manner, but who determines what that manner is?
AUVSI's Unmanned Systems 2014 – Technical Program offers a variety of services to those who are working with UAVs. The conference May 12-15 and the Trade Show begins May 13-15 at the Orange County Convention Center, Orlando, Florida. | USA
Fundamental and Advanced Programming enables those attending to learn about important issues, advancements, and opportunities in the unmanned systems and robotics industry. More than 100 technical sessions, panels and workshops will feature the industry's top speakers and leading experts.
Cutting-Edge Products and Technology takes attendees xploring the latest technology on the market from more than 600 innovators.
Collaboration and Networking Events provide networking opportunities from more than 8,000 attendees from over 55 countries, with time to daily coffee breaks, receptions, generous exhibit hall hours and the premier networking event, The Mix
The technical program for AUVSI's Unmanned Systems 2014 is now available to view online.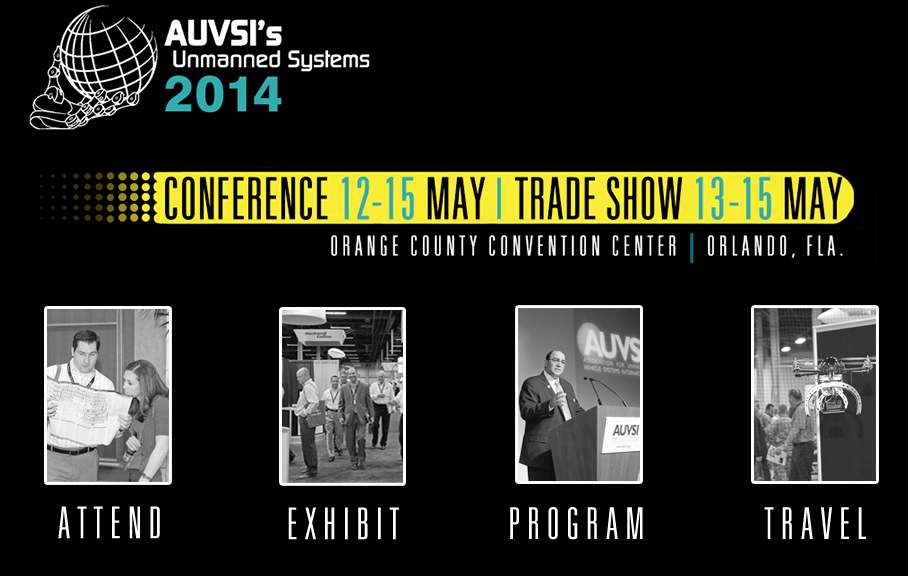 To compete and thrive in today's global marketplace, it is critically important to establish an international network of resources and stay up to date on innovations that are emerging around the world.
The session line-up features the latest research, technologies and advancements in the unmanned systems industry.
48 world-class presenters will address topics including:
Airspace Integration Policy and Regulation
Ground Robot Testing, Design and Development
Maritime Vehicle Fundamental Research
UAS Training and Certification
Automated Vehicle Research, Development and Operations
This May, immerse in the sessions with the most important thought leaders and researchers across all platforms. Form new partnerships and gain a clear understanding of how you can impact the future of unmanned systems.
View the full technical program and register at.