Inmarsat (LSE: ISAT.L) has appointed Station711, the Mobile Satellite Services (MSS) arm of RRsat Global Communications Network Ltd. (NASDAQ: RRST), as a Broadband Global Area Network (BGAN) Distribution Partner.
The new distribution agreement expands Station711 's longstanding relationship with Inmarsat and is a strong indicator of the strength of the partnership. Station711 has been a Distribution Partner for Inmarsat 's FleetBroadband maritime service and its GSPS handheld service for several years.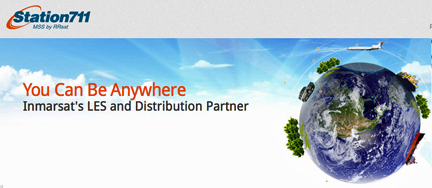 The new BGAN distribution agreement enables Station711 to offer the benefits of Inmarsat's award-winning L-band service to the g overnment and defense markets throughout Israel. These services include BGAN HDR, a new high-data rate streaming service. RRsat will leverage BGAN HDR and other BGAN-based services to expand its offerings for both new and existing customers.
RRsat, of which Station711 is the MSS division, will have a role as a BGAN distribution partner that will enable the fast development of powerful and innovative solutions for the company's end-users.
For further information regarding BGAN, go to http://www.inmarsat.com/services/bgan
For more information regarding Station711, access http://www.station711.com/