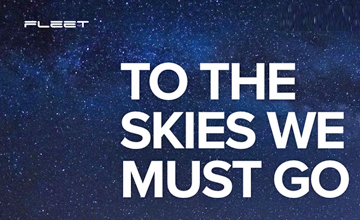 Fleet Space Technologies, based in Adelaide, South Australia, has recently secured $5 million in funding to help the firm launch their first two satellites in 2018.
CEO Dr. Flavia Tata Nardini spoke at an Internet of Things forum in Delft in the Netherlands earlier this week and has been selected to pitch to investors including Elon Musk in Washington, DC, next week at the International Space Station Research and Development Conference. This will be Musk's second brush with South Australia this month after flying to Adelaide last week to announce his company, Tesla, would install the world's biggest lithium ion battery at a wind farm in the state.
This is an important time for Australia's emerging space industry as it prepares to host the 68th International Astronautical Congress — the year's most important space meeting — in Adelaide in September.
Dr. Nardini, a former European Space Agency rocket scientist, has joined a chorus of voices calling for Australia to establish a national space agency to support the nation's AU$4 billion a year space industry. She said the millions raised by space startups in Australia in the past six months had created a great deal of momentum ahead of the International Astronautical Congress,.
"The conference in September is such an important moment," Dr. Tata Nardini said last week before heading to Europe. "2017 is a space year for Australia so we hope all this momentum will inspire the government to make decisions."
The company aims to have a constellation of more than 100 of its smallsats — measuring 30x30x40 cm each — in orbit by 2022 to potentially connecting up to 75 billion devices to the Internet of Things (IoT). The company believes the technology is ideal for creating a low-bandwidth global network to directly connect the millions of digital sensors already beginning to transform industries such as agriculture, logistics and mining. Vital remote areas that could significantly benefit from improved connectivity include the Amazon rainforest and the Great Barrier Reef.
Dr. Nardini added that the company is working in the Amazon rainforest where people physically measure 500,000 trees a year with a caliper in the middle of nowhere because there is no connectivity — this can be done with a sensor. All the world is going to change when you can measure things because efficiencies start increasing. The Internet of Things is going to hit us all and change everything… we are talking about major industry changing the way they operate forever."
Fleet has booked their first satellite launch with SpaceX in early 2018, with a second deployment planned for the middle of the year.
"This will be the first Australian satellite on an Elon Musk rocket," Dr. Nardini said. "With one satellite in LEO, you more or less cover all of the Earth — almost 90 per cent of the planet — so the first two satellites will do a couple of tricks for us — they will reveal our tech, they will start connecting the firm's first customers and they will secure frequencies."
Dr. Tata Nardini did not say exactly how much investment was being sought in the latest bid, which was hoped to fund at least half of the constellation. She said ideally the company, which has offices in the United States and Europe, would remain headquartered in South Australia. She added that the company provides connectivity to industry in remote areas and Australia is huge and a lot of the industry is in remote areas. All of the company's customers here — and we see the same issue in Asia and South America — they suffer from no connectivity. The South Australian Government is also very supportive and several space companies have moved to the state in recent months.
Approximately 3,500 delegates are expected to attend the International Astronautical Congress in Adelaide from September 25 to 29 including the heads of the world's leading space agencies.
Article sourced from The Lead, authored by By Andrew Spence.