[SatNews] In the aftermath of the devastating tsunami that swept the Mentawai islands on October 25th, Télécoms Sans Frontière (TSF) deployed to Indonesia at the request of the Office of the President of Indonesia and in coordination with ASEAN and BNPB (the Indonesian Government Disaster Management agency)
.
From its regional base in
Bangkok
, TSF began in
Padang
then reached
Sikakap
, capital of South and North Pagai, the islands most affected of the archipelago, situated about 150 kms off the coast of Indonesia. In the field since Friday morning October 29th, TSF has been supporting the humanitarian community and the affected populations.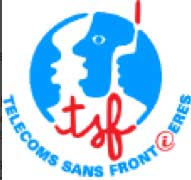 Upon arrival in
Sikakap, TSF installed a satellite-based emergency telecoms center
at the humanitarian coordinating office to reinforce the communication and response capacity of rescue teams. Beneficiary organisms:
Acted, CDRM, Hizbut Tahrir, Tagana, BNPB, Mapala unand, DD, Dian Insani Indonesia, Mercy corps, Muslim aid, Surfaid international, Air Putih, Ericsson, French Red Cross.
Saturday October 30, TSF's team conducted an
assessment of existing emergency communication means on North and South Pagai islands.
The objective of the assessment was also to determine the needs of rescue teams and aid agencies in telecommunications in the affected areas. The team travelled in the northern part of the island (notably in the cities of Muntei and Saumanganya) and then concentrated their efforts on the west coast of North and South Pagai, the most damaged as the tsunami came in from the west.
While in
Siberut
and
Sipora
, the two Northern islands, there is relatively good mobile coverage; there are no communication facilities in North and South Pagai islands, except in the capital Sikakap. Establishing communication between Sikakap and the affected villages is vital. First responders need telecommunications services to communicate humanitarian needs as quickly as possible and distribute the aid in an effective and coordinated manner into those very poor villages that remain difficult to access.
It seems that these very poor people, who are self-sufficient, have few family members to contact outside the islands. As a consequence, the calling operations should be limited.
Like in the
Philippines
, in partnership with the
European Commission
, TSF has decided to stay for several months in these very poor islands, in order to strengthen their capacities in emergency telecommunications. Within the framework of the program that will last until the end of January 2011, TSF will pre-position emergency communications solutions in the affected islands, in order to guarantee communications for the current emergency response and during future disasters, even if commercial networks have been damaged. An independent communication system will enable timely information flow and improve the coordination and response to meet the needs of those affected.
The European Commission's Humanitarian Aid department (ECHO) is a service under the direct responsibility of
Commissioner
Karel De Gucht
.