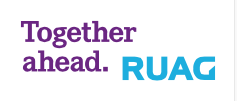 New locations, a new general manager and new technology, and milestones that they have met makes RUAG Space U.S. A. a tour de force.
RUAG Space, product supplier to the space industry, announces another important addition to the growing U.S. team as David Rowe joins the Decatur site as General Manager. He will oversee all RUAG Space USA staff who are involved with launcher products from Huntsville, Decatur, and Denver. Currently, this includes over 50 U.S. employees, with potential for rapid growth throughout 2018.
Rowe, who brings over 25 years of experience in manufacturing, joins the team at a critical time in the ramp-up of the U.S. site, as the testing phase of the large industrial oven is about to begin. The state-of-art oven will be used for the production of RUAG's composite structures, such as payload fairings and interstage adapters. The oven can hold structures up to 78 ft long, 28 ft wide, and 23 ft high, and is scheduled to begin work on the first demonstrator piece in early January 2018.
The new process, which no longer requires the use of an autoclave, has already successfully produced RUAG fairings for the European market, and offers time and cost reductions to RUAG customers
RUAG's new GM brings experience in lean manufacturing and operational excellence to the U.S. team at this crucial point in the implementation process. He most recently served as Vice President of Operations for Bristol Compressors International, where he was responsible for all manufacturing, supply chain, quality, and new product development. He has extensive knowledge in leading a Global multi-plant start-up, and was Vice President of Operations for Toyota, while leading the successful launch of the Toyota Aisin group.

Peter Guggenbach, CEO of RUAG Space said that over the next few months, all of the major machines and tooling for RUAG's out of autoclave fairing production will be installed and tested, and that David Rowe, with his strong track record in operational excellence, is the right candidate, to joins them at this important time, and will lead their teams in Alabama and Colorado into 2018, where they will see the first RUAG composite products fully made in the USA.

He added that RUAG's advanced processes for composites in the space industry, provide a strong statement towards the changing market, and that they are excited to be a part of this U.S. growth, where they can bring their American manufacturing experience, to this team.

RUAG Space has opened five locations across the United States since its incorporation in 2015. In addition to the Decatur facility, the company has offices in Huntsville, Silicon Valley, Denver, and Titusville.