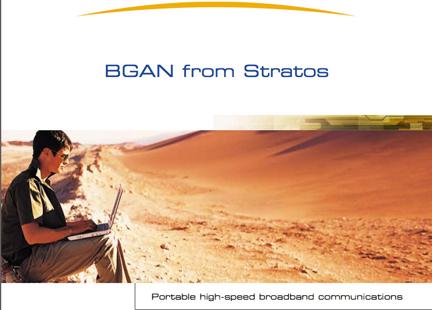 Stratos Global Corporation is providing world-renowned adventurer Ray Zahab's "Running Tunisia" expedition with Inmarsat BGANmobile broadband satellite service.
Running Tunisia
is the second stage of
Zahab's World Expedition Series
to raise awareness of the global scarcity of clean water.
Zahab
, along with four Youth Ambassadors and other adventurers, began their trek April 16th and will run through April 23rd — a total of 155 miles (250 km) — through the northern Sahara's searing heat and massive sand dunes in a quest to cross Tunisia. Last month,
Stratos
provided BGAN service for the 10-day "
Siberian Express for Water
" expedition, where
Zahab
and a colleague ran the 400-mile (650 km) length of Siberia's frozen Lake Baikal. BGAN from Stratos performed admirably on that expedition and Zahab's crew is using the same
Thrane & Thrane
EXPLORER 700
BGAN terminal for the Sahara trek.
Stratos and its Channel Partner
Satellite Communication Source
have again joined forces to provide the BGAN system that is enabling the expedition leaders to broadcast content to their web site at
http://www.runningtunisia.com
. The expedition leaders are successfully using BGAN to maintain contact with their project team, post photos and blog entries, upload videos, and stream live video conferencing into classrooms across North America. The live video conferences provide a compelling learning experience to more than 8,000 students. During the expedition, students are able to see and speak with the expedition participants in real time — while learning about clean drinking water issues around the world.
Stratos Dashboard
, the foundation of The Stratos Advantage value-added services, is being used to monitor and control BGAN airtime usage.