[Satnews] Significant research and development has gone into flat panel antennas for the ground portion of satellite communications in the past ten years.

Flat panel antennas are often touted as a cheaper, more efficient and convenient form factor than traditional parabolic VSAT antennas. NSR's Flat Panel Satellite Antenna Analysis is the 1st multi-client study on the potential opportunities that these groundbreaking technologies offer with smaller and lighter form factors. These new ground systems —either electronically or mechanically-steered phased array antennas—are expected to be game-changers for mobile and fixed satellite applications, and promise to revolutionize the satellite industry.
This NSR report is structured into two parts – Mobility and Fixed Applications.
The Mobility section includes government and commercial segments, both broken down into three vertical markets – Aeronautical, Maritime, and Land-mobile
The Fixed Application section consists of two vertical markets – Broadband and Satellite video/Direct-To-Home (DTH).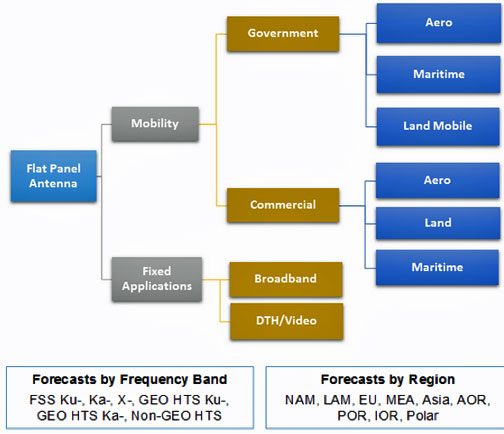 This new report forecasts the global industry growth of in-service units, shipped units, and equipment revenues across nine regions and by frequency band. The forecasts are scenario-based, and the drivers and restraints that NSR believes will lead to market growth in the next ten years are clearly explained to offer a wider outlook at what the future holds for the stakeholders.
In addition to the methods and improvements these new devices bring, NSR provides a complete state-of-the-market analysis and forecast for flat panel antennas for both mobility markets (air, land and sea) as well as fixed applications (consumer broadband, enterprise data). Vendor deals with operators are reviewed, and a segment-by-segment assessment helps readers determine if ambitions and promises of multi-megabit per second connectivity via a simpler, flatter antenna will be matched by material achievements and sizable market penetration.
Apart from being the first market report on this industry, Flat Panel Satellite Antenna Analysis builds on NSR's leadership in the area of HTS markets in this new report, as it delves into the critical role that flat panel satellite antennas are expected to play in closing the business case for LEO-HTS communications constellations. The report also answers the key question frequently posed to equipment manufacturers—'Will low-profile, flat panel antennas leapfrog current VSAT and be the revolutionary product that the satellite industry has been waiting for?'