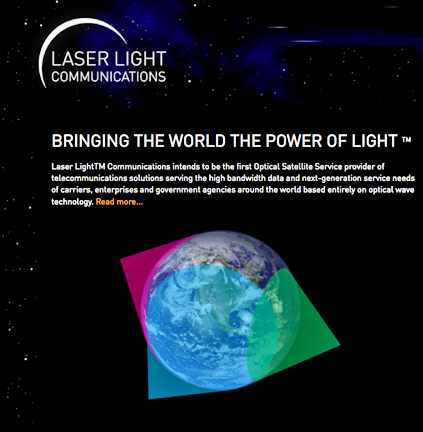 [SatNews] US Finance, Inc., a global financial solutions company, has issued a commitment to lend $24 million to Laser Light(tm) Global Limited, UK ("Laser Light™") to build The HALO Center(tm), a laser communications test and evaluation facility.
"The HALO Center™ is intended to serve as our pre-launch test, demonstration and certification facility for vendor-supplied equipment and operating system for Laser Light™'s planned Global Hybrid Satellite-Terrestrial Optical Network™, currently scheduled for deployment in 2017," said Robert H. Brumley, the CEO of Laser Light.
This center will be located in Reston, Virginia, with the funding commitment allocated for facilities, equipment and other corporate purposes that will render The HALO Center operational in late 2014.
"US Finance, Inc. is pleased to provide funding for what we believe is a revolutionary new form of worldwide communications," said Phil Bianca, CEO and President of US Finance, Inc. "We are confident that The HALO Center and Laser Light have the ability to change the face of data communications globally from this day forward."
Brumley added that the partnership with US Finance, Inc. for the initial funding commitment will enable Laser Light to open what they anticipate to be the first global, open-architect, commercial test facility and Network Operating Center (NOC) focused primarily on emerging, next-generation, Free Space Optics communications technology and operating solutions. A competitive Solicitation for these network elements is anticipated this year.
ABS Technology Architects was instrumental in the design of the facilities and the state-of-the-art architecture based on Cisco Systems, Inc. equipment for The HALO Center.
"The HALO Center™ design is intended to serve as an active, licensed 'Point of Presence' connected to the Global Grid through dual, fully redundant 100G service rings, supported by on-site data storage, co-location and hosting capabilities," according to Walker Dorroh, CEO of ABS Technology Architects. "The operational plan for HALO is to route global IP traffic through the Center's 100G PoP, which will consist of a hybrid fiber-laser-fiber loop, thereby validating free space optics performance and interoperability with current global optical network systems."
"Working with our partners, ABS and CISCO, Integrity Applications, Incorporated (IAI) is proud to have played a key role in defining and developing Laser Light's HALO test and evaluation facility," said Mike Rigo, Vice President for National Programs for IAI, an engineering and software services company that contributed substantially to the architectural concepts, system constraints, network requirements as well as the technical and facility reference designs for The HALO Center.
Laser Light Global Limited, UK, intends to be the Owner, Operator of the World's 1st Global Hybrid Satellite-Terrestrial All Optical Network System™. Laser Light is a registered company in the United Kingdom, and the parent company of The HALO Center, LLC and Laser Light Communications, LLC, both US-egistered Delaware companies.
For further information, please visit the company's infosite, located at http://www.laserlightcomms.com/