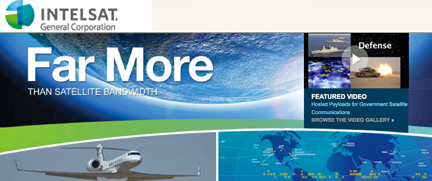 [Satnews] Intelsat General Corp., a wholly owned subsidiary of Intelsat (NYSE: "I"), has been awarded a contract to provide satellite services to the U.S. Air Force Central Command (AFCENT).
The one-year contract calls for 144 MHz of Ku-bandwidth to support U.S. military operations in the Central Command (CENTCOM) Area of Responsibility (AOR). The service, which began in September 2015, has three one-year renewal option periods and one six-month renewal option period.
Under the previously disclosed contract, Intelsat General will provide coverage all across the Middle East as far eastward as Afghanistan and Pakistan, including reach-back to European teleport facilities.
Executive Comment
"The deployed Airmen are operating satellite ground terminals supporting C4ISR networks at numerous remote and expeditionary locations requiring a single-satellite solution that was not readily available," said Skot Butler, Vice-President, Satellite Networks and Space Services, Intelsat General. "With our vast global network we had the ability to re-groom capacity, creating a unique solution that precisely accommodates the customer's single-satellite requirement."